Interest

Anime to Watch on Bastille Day

posted on by Gia Manry
France-related anime available streaming for free
---
July 14 is Bastille Day in France, a celebration of the nation's shift into modernity held on the anniversary of the storming of the Bastille. France is also a nation that is more than fond of Japanese animation: Paris' Japan Expo hosted more attendees in 2009 than Comic-Con International (164,000 vs 126,000). For those interested in celebrating France and its fondness for anime, here are a few recommendations available for free streaming online:

Axis Powers Hetalia, Episode 10
After being left out of an Allied meeting, an anthropomorphized France pouts and ponders its glorious history versus its modern-day treatment. The episode, and others in the series of comedic shorts, are available at Funimation.

Gankutsuou: The Count of Monte Cristo
Based on Alexandre Dumas' french novel The Count of Monte Cristo, Gankutsuou is set in a neo-Paris in outer space. The show has a unique look featuring Photoshop textures, 3D animation, and music from classic operas, fusing the futuristic space setting with a period feel appropriate to Dumas' era of 19th-century France. The first four episodes of the style-heavy tale of love, loyalty, and vengeance are available here at Anime News Network.

Le Portrait de Petit Cossette
A beautiful young French woman named Cossette is cursed by her Italian lover, an artist who became too obsessed with her beauty and killed her and her family, leaving her spirit trapped in his painting. A young Japanese man finds the painting at an antique shop and tumbles head-first into an obsession of his own. This 3-episode horror OVA, directed by Sayonara Zetsubou Sensei's Akiyuki Shinbo, is available at The Anime Network; the first episode is free to anyone; the second only to registered users, and the third only to paying subscribers.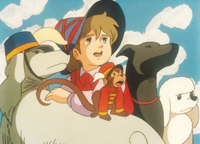 Nobody's Boy Remi
A young foundling from the French countryside is sold by his adopted parents to a street performer and suffers many tragedies on his journey to find his true family and his place in the world. This 1977 classic is based on Hector Malot's French-language novel Sans Famille, released in English under the title Alone in the World. The first 25 episodes of Remi are available here at ANN.
---