Interest

DiCaprio, Jolie & Pitt's Family Are Anime Fans

posted on by Gia Manry
Live-action
Akira
/
Ninja Scroll
producer, Salt actress mention favorites during Tokyo visits
---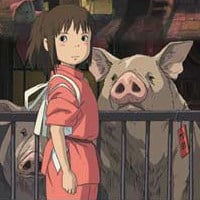 Actor Leonardo DiCaprio professed last week in Tokyo that he is "a huge fan of Japanese cinema, Japanese anime," specifically citing the Hayao Miyazaki/Studio Ghibli film Spirited Away as an example of the "surreal landscapes" that Japanese audience "seem to love." DiCaptrio was explaining at a Tokyo press conference why he thought his Inception film, which features similar landscapes, would be popular in Japan. (The film debuted in Japan at #1 this past week with a box office total of US$8,896,692.)
French comic book artist Christian de Metter adapted another film starring DiCaprio, 2009's Shutter Island, into a graphic novel released by manga publisher TOKYOPOP and book publisher HarperCollins' William Morrow imprint. DiCaprio is also attached as a producer to live-action remakes of two popular anime/manga franchises, Akira and Ninja Scroll.
The Dark Knight's Christopher Nolan directed Inception, which opened in Japan on July 20. In addition to DiCaprio, the cast includes Japanese actor Ken Watanabe. Recently, the creators of the manga Bloody Monday collaborated on a poster for the movie, which revolves around a world in which it is possible to enter into someone's dreams and "extract" ideas and information. In the film, DiCaprio's character is hired by Watanabe's character not to extract, but to plant an idea. Nolan has reportedly cited Satoshi Kon's anime film Paprika as an inspiration for the character of a female dream architect, played by actress Ellen Page. Inception was adapted into an online graphic novel by producer Jordan Goldberg (Batman: Gotham Knight), Long Vo (Street Fighter), Joe Ng (The Transformers), and Crystal Reid.
In other news linking Hollywood and Miyazaki, actress Angelina Jolie told the Washington Post newspaper that she took four of her children shopping for toys based on Miyazaki works Ponyo and My Neighbor Totoro earlier this week in Japan. Jolie, who raises her children with fellow movie star Brad Pitt, is on a visit to Tokyo to promote her film Salt.
Sources: AFP, Washington Post
Image © 2001 Nibariki • TGNDDTM
---