Interest

Chris Weston on Redrawing Akira Bike for Live-Action (Updated)

posted on

2011-07-13

19:30 EDT by Andrew Osmond
U.K. production artist designed a more beaten-up, "meatier, nastier" motorbike
---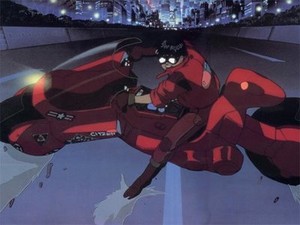 British comics artist Chris Weston blogged about his experiences on the proposed live-action version of Katsuhiro Otomo's Akira manga on June 28. Weston was brought onto the project at the time when Albert Hughes was set to direct it; Westen says that he was immediately asked to redesign Kaneda's iconic crimson motorbike.
"I was as horrified (...) I was the one the fanboys were going to come for when they inevitably declared it a travesty," Weston said in the blog. "In my defence, I would say at least I brought a love of Katsuhoro Otomo's art and an admiration of his design aesthetic to the table. I didn't want to stray too far away from the classic design. However, one has to admit that faithful real-life reproductions of Kaneda's bike do look a little bit kitsch... "
Weston said that he designed the bike on the premise that Kaneda would use it as a weapon in his gang wars, meaning it would have a more "beaten-up" look. "The version I created was a bit meatier and nastier," Weston continued. "The tyres were bigger, the engine was bigger, some of the casing was stripped off to expose the workings beneath... In silhouette you'd have no problem recognising it as the Akira Bike, but the lighting would reveal a whole new level of texture and detail."
He added that there was a discussion about changing the bike from red to black, but it was finally designed as a burgundy red. "I believe BMW in Munich had begun production of a working model, but I can't vouch for that," Weston said.
Hughes left the Akira remake in May this year. Weston says he cannot comment about why, in his words, "this film production ultimately floundered (...) There's all sorts of rumours about the casting issues floating around the net, but most of it is bollocks, I believe."
Weston's art credits include the Judge Dredd comic in 2000 AD, working with writer Mark Millar on Swamp Thing, and working with J. Michael Straczynski on The Twelve.
[Via Bleeding Cool, Comic Alliance]
Update: Kaneda references' corrected. Thanks, Toriko36.
---