Interest

Machine Girl's Iguchi Casts Shokotan in Her 1st Lead Film Role

posted on by Joanne Mertz
Idol stars as lolita girl nicknamed "Dame-ko" who fights zombies in Nuigurumaa Z
---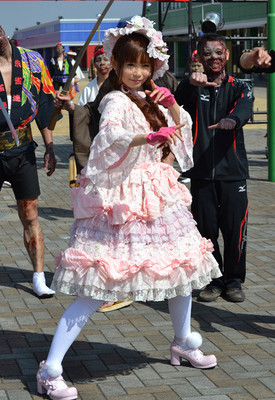 Shoko Nakagawa, the idol and actress known to her fans as Shokotan, has landed her first starring role in a film with Nuigurumaa Z. In the tokusatsu (special-effects) comedy, Nakagawa plays Yumeko Aikawa a.k.a. "Dame-ko" (no-good-girl), a girl in lolita fashion who transforms into Nuigurumaa when she combines with a pink teddy bear (nuigurumi no kuma). She fights with the villian Takeshi, who plans to take over the world using zombies.
Nuiguruma-Z is based on "Tatakae! Nuigurumaa" ("Fight! Nuigurumaa!"), a tune performed by Kenji Ōtsuki's band Tokusatsu. Noburu Iguchi, the director known for such genre films as Sukeban Boy, Cat-Eyed Boy, The Machine Girl, RoboGeisha, Karate-Robo Zaborgar, Tomie: Unlimited, and Dead Sushi, is helming the project. (Nakagawa previously drew the Nōko no Koi manga based on a concept by Iguchi.)
The movie's producers allowed reporters to visit a shooting location in Chiba Prefecture's Chōsei District. There, Nakagawa and co-star Rina Takeda filmed a ghastly action scene where Nakagawa's character faced over 40 zombies. Takeda plays Takeshi's psychic subordinate Kill Billy and Dame-ko's alter-ego Nuigurumaa. She also starred in Iguchi's previous horror comedy work Dead Sushi, which resulted in her Best Comedy Actress win at the Fantastic Fest in Texas.
To Nakagawa, who is a fan of tokusatsu and cosplay, the role is a dream come true. She bubbled excitedly, "Every day is too much fun, too happy, too intense, too many things boiling over, I'm so happy to be alive! I continued to wish for it so strongly, and for my dream to be granted, it feels like I've gone to heaven! With my absolute favorite tokusatsu genre, zombies and action, and adorable fashion, it's a work of chaos that's packed with all the wonderful things in this world!"
The film will open early next year.
Source: Eiga.com
---