Interest

Town of Iwami Offers Exclusive Free! Merchandise and Iwatobi-chan Scarecrow

posted on by Bamboo Dong
Visitors to Iwami in Tottori Prefecture might recognize a familiar face... a scarecrow made to look like Iwatobi-chan, the mascot from the Kyoto Animation swimming anime Free! - Iwatobi Swim Club. Made by the people of Iwami, it is currently set up by "Cosmos Road" along the Yoshida River on the Uradome coast.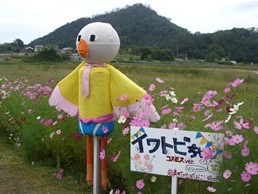 Then again, fans of the Free! - Iwatobi Swim Club anime might recognize a lot more than just Iwatobi-chan. The series is set in Iwami, along Tottori's scenic Uradome coast, known for its picturesque rock formations. Several notable scenes are recreated from real-life locations, such as the Tajiri Port (check out this guy's 360 degree photo) and the Uradome Swim Hall. Naturally, some fans have already made the Free! pilgrimage.
To urge more fans to visit Iwami, the Iwami Tourism Association has even posted a guide to some of the exclusive Free! merchandise that can be purchased in town this month.
Fans can nab a five-piece Free! postcard set (500 yen), an Iwatobi-chan zipper accessory (525 yen), or magnetic bookmarks of Haruka Nanase and Makoto Tachibana (525 yen).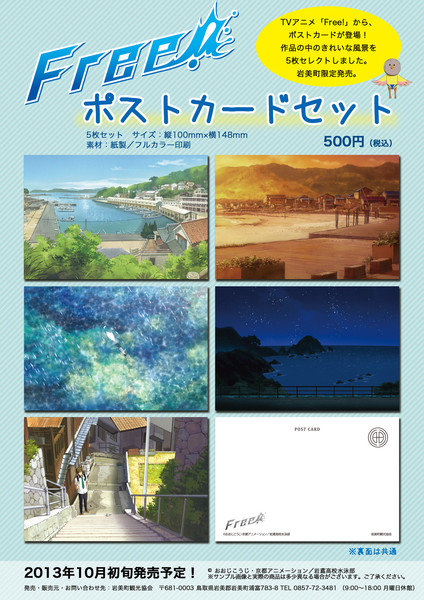 Or, they can get goods by visiting patronizing local businesses and saying, "I watched Free!" Participating business include the Seaside Uradome ryokan (Japanese inn) or the San'in Matsushima Sightseeing cruise company and the Akashiya hot spring ryokan.
The town has been celebrating Free! all summer long. On July 27, a local fireworks festival even had zipper accessories and pins featuring the characters, and cellphone straps featuring the show's two rival high schools. And get this‒the first one hundred customers even got free, locally-caught flying squid and fried mackerel. Visitors to the Tourist Association booth also received Free! (but also free) posters with sight-seeing maps. Luckily, if you weren't there, you can still buy the goods from the Iwami Tourism Association.

[Source: Asahi Shimbum and Iwami Tourism Association]
---