Interest

Hatsune Miku Tries Being a Newscaster in Fan Video

posted on by Eric Stimson
Today's news is unusually heartwarming
---
Mitchie M, a noteworthy Vocaloid music producer, has scored success with a new Hatsune Miku video on Nico Nico Douga, "News 39." It presents Hatsune Miku as a newscaster on the (fictional) eponymous news program, presenting the day's news in song form, including a weather report delivered via rap.
The first news story she reads is about a dog rescued from drowning by a homeless man who is rewarded for his good deed with a job. The second story is about a man who rose to the presidency from slums, enduring much hardship and "emptiness"; he donates all of his money to charity and focuses on alleviating poverty. The weather report mostly predicts rain and references Japanese tennis star and meme fodder Shūzō Matsuoka.
Mitchie M has released a Hatsune Miku CD album, Greatest Idol, with a cover illustration by Yoshiyuki Sadamoto. The video was made with the help of Tohru Mitsuhashi, who also made the promotional video for Mitchie M's hit "Viva Happy," and cort, who animated Miku's realistic motions using the software MMD (MikuMikuDance).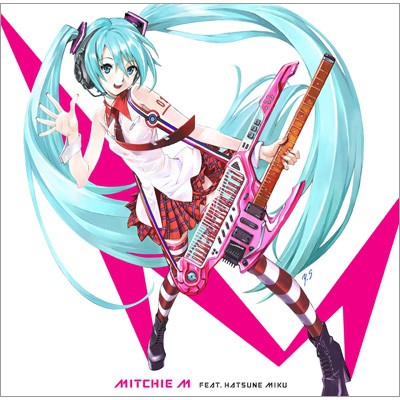 "News 39" topped 100,000 views in one day, earning it a place in the "Vocaloid Hall of Fame."
[Via Kai-You; Image from HMV Online]
---