Interest

Figure Close-Up: Dragon Ball Z Model Kits

posted on by Sam Leach
Anime News Network's merchandise coverage sponsored by
Tokyo Otaku Mode
.

---
Figures are provided courtesy of Blue Fin Distributors
There's a lot of merchandise out there for anime fans, and beyond the DVDs and Blu-rays and all that, by far the most collectible of them are the figures. My personal experience with them has mostly been with the simple, un-posable statues, but Bluefin was kind enough to send something a little bit different my way:

These are the Figure-rise Standard Dragon Ball Z model kits from Bandai. Self-assembly kits are far from my forte, considering I must have been about 10 years old the last time I put anything like this together. But, hey! With the fresh announcement of Dragon Ball Super getting a North American simulcast, 'tis the season to dive head first into a fun little hands-on project.
What we have here is a Super Saiyan Goku kit, and a Final Form Frieza. Judging by the box art I'm assuming these two releases are meant to go hand-in-hand.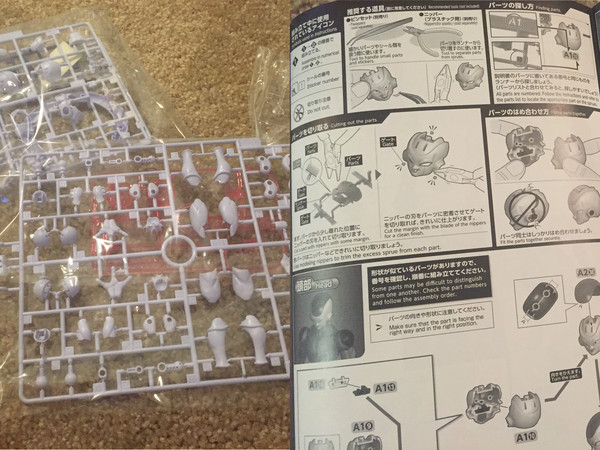 Inside each box are a series of plastic frames with the pieces in them and the instructions, as you'd expect. Conveniently, the instructions are bilingual, but since they're so visually oriented it probably wouldn't have been the end of the world had they only been in Japanese. It's been ages since the last time I did anything with pieces in plastic frames like this, so I wanted to follow the directions to the best of my ability. The first thing I read here was that tools like metal clippers and tweezers were required (not provided with the kits themselves, but they were supplied to me for the sake of the review), and I gave an honest try at using the clippers as much as possible for removing the pieces from their frames, but I quickly learned that was not the ideal method. It's still much easier to just pop those suckers out with your bare fingers. Not only is it faster and more fun, but I found myself accidentally cutting some of the plastic off the pieces when using the clippers.

From there the instructions are fairly self-explanatory. As long as you remove the right pieces one at a time as you're putting the individual sections together, you shouldn't have to worry about losing your place, since the pieces remain organized and labeled as long as they remain in the frame. I'm a model kit newbie so I'm sure a lot of this is old news to some people, but I did admire the engineering behind how they got the different colors of the face to show through by layering the different pieces. I thought that was really interesting.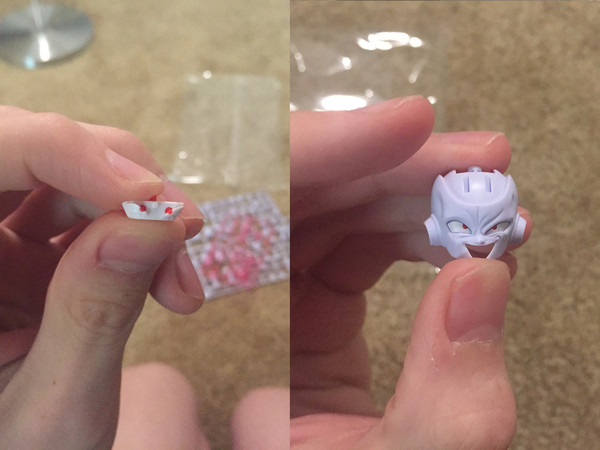 I'm mostly showing pictures of Frieza here, since I put Goku together ahead of time to troubleshoot the experience, and now I'm discovering how much smaller the Frieza model is by comparison. Having characters be to scale to each other is something I like in my figures, so that's a plus for these sets, though it is funny to remember how much of a shrimp Frieza is in his "final" form.

;
There are a few noteworthy differences between these two figures. Mainly, the Frieza model is a bit easier to put together since there are a lot more identical, interchangeable parts (as opposed similar, but symmetrical ones in the Goku model) and in general I think it ends up looking a lot nicer. Frieza's design lends itself to the robotic joints of a posable figure a lot more, and I just can not for the life of me figure out how to set Goku into any kind of position that looks nice. I tried copying the different poses from the manual, but it just doesn't work. The biggest problem are his shoulder areas where I have no idea how to turn which piece where in order to get the best results. I always feel like I'm doing something wrong. Frieza, on the other hand, gave me much less fuss and just about any pose I put him in still manages to have a little bit of personality to it.

Though, I feel it's worth mentioning that I'm having trouble keeping either of their waists locked to their hips. I can't tell if they're designed to be a little weaker in that area, or if I just put them together wrong. Posable figures have always been a tough sell in my mind. I don't love the visible joints, but I'd be able to live with them for right figure. These DBZ model kits at least offer the zen experience of getting to put something together (which I always find fun), but they're not quite the kind of product I'd choose to put on my shelf. The fan in me also kind of wishes they had made Goku in just his blue undershirt, so that it would have been a little more accurate to the original Goku vs. Frieza fight. If these two are going to be advertised as a pair, then I feel like that's the kind of thing they should be going for.
If you enjoy hands-on projects and you're a DBZ fan, then the equation speaks for itself. I definitely think Frieza is the nicer figure of the two, but I can see wanting something a <i>tiny</i> bit more complicated, which you get with Goku. The final products aren't anything special, but they're not hideous by any means. I think it really boils down to how picky you are about what goes in your collection.
---