×
remind me tomorrow
remind me next week
never remind me
Subscribe to the ANN Newsletter • Wake up every Sunday to a curated list of ANN's most interesting posts of the week.
read more
Interview: Hiro Mashima
by Crystalyn Hodgkins,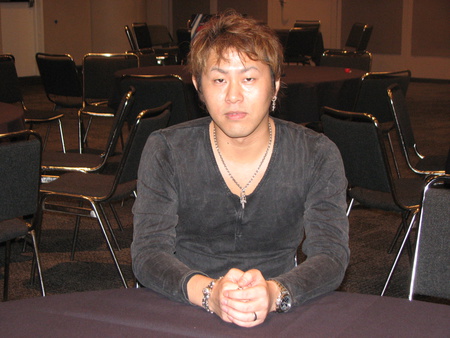 New York Comic Con hosted manga creator Hiro Mashima, who has created such series as Rave Master, Monster Hunter Orage, and most recently, the popular manga Fairy Tail. Mashima sat down with ANN (and, due to the way the interviews were conducted, simultaneously with Brigid Alverson of MTVGeek) to discuss what he thinks of the Fairy Tail anime, the themes in Fairy Tail, and how he gets his inspiration. ANN had also asked Mashima if he could provide any more details on the recently-announced Fairy Tail film due out in August, but after speaking with his staff, Mashima could only say that more details would be made available soon.
ANN: Last time we spoke with you was in 2008. Since then, Fairy Tail has been made into an anime. What do you think of the anime adaptation?
Mashima: I've been having a great time, just going along with the ride. I wanted to tell [ANN] about the anime during that earlier interview, but I couldn't.
What is your favorite part about having your manga turned into an anime?
Just watching Natsu and Happy move around. There's a limit to the effects I can draw regarding the depiction of the magic in the manga, so seeing that in the anime is so much fun, and it looks very beautiful onscreen. It made me realize how fun my characters are when I saw them moving around.
Did you read manga or watch anime as a child, and if so, what were your favorites?
Dragon Ball, and a lot of the works by Hayao Miyazaki.
At that time, did you ever think that you would become a manga creator?
It all started with me copying and tracing their works, and then, before I realized it, I knew I was going to be a professional. It was what I wanted to be so badly, that I knew I was going to be one.
Loyalty to family and friends is a frequent theme running throughout Fairy Tail. Is this also something you feel passionate about?
Absolutely. My friends have helped me a lot in the past, and that's something I wanted to directly show in this manga. And that was the beginning of Fairy Tail actually. But, because I've so busy lately, my list of friends in my cell phone has been quickly edited down (laughs).
Monster Hunter Orage is based on the Monster Hunter videogame franchise. And yet, it's a manga that those who don't know the game very well can read and enjoy. How is it different to create a manga about a world you didn't make, as opposed to Fairy Tail where it's all yours?
Of course, the first thing I understood was that I couldn't destroy the world of the original authors, so I had to respect that. But there were a lot of similarities, the vision of the world of Monster Hunter was very similar to the world I often depict, so it wasn't too difficult.
In Fairy Tail, often the "villain" characters get redeemed in one way or another. Do you believe in giving people second chances and that anyone can be redeemed?
Absolutely. However, I value life heavily, and that's something to keep in mind. Sometimes I depict where a character passes away, but then it turns out they actually hadn't, but I never draw how someone who was actually already dead coming back to life; that's not something that I depict.
Fairy Tail is a very imaginative manga. It has a lot of surprises in it, and it's also very funny. How do you come up with ideas for your characters and stories, and what do you do when you run out of ideas and inspiration?
So, at the actual moment that the idea is born, I'm not aware of it. It happens coincidentally and spontaneously. But I'm constantly thinking of ideas. Even as I was walking here from the staff room I was thinking about it, and even now, in the corner of my mind, I'm actually thinking of ideas. But when I can't think of ideas, I sleep it off. I just have to change my emotions and feelings.
What message do you have for your English-speaking fans?
There are 15 volumes of Fairy Tail out now in English, but many more interesting and surprising stories await you, so I hope you read on. There are also many more characters, and the plot is thickening and getting ever more passionate. I'm well aware that I have readers not just in Japan, but all over the world, so I hope everyone will look forward to my work.
This interview was conducted alongside Brigid Alverson at MTVGeek.
ANN would like to thank Hiro Mashima and Kodansha Comics for this interview opportunity, the New York Comic Con staff for arranging the interview, and a special thanks to Marie Iida for assisting with the translation.
---
discuss this in the forum (46 posts)
|