News

Manga about Japanese Student's Killing Posted Online

posted on by Egan Loo
People in student's manga major create work to appeal for public help
---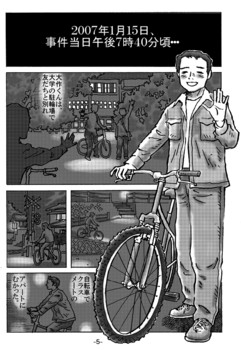 The volunteers looking for the killer of Japanese manga student Daisaku Chiba have posted online the informational manga created by his professors and fellow students. Chiba, a freshman in Kyoto Seika University's Faculty of Manga, was bicycling back to his apartment when he was stabbed to death on the evening of January 15. He had just moved to Kyoto from his northern Japanese hometown of Sendai, after being accepted into the university to pursue his dream of drawing manga. (The university is the first one in Japan with a manga major program and a faculty of manga.)
Six of Chiba's professors and fellow students created the manga to appeal to the public for any information that can lead to an arrest. The alleged killer is described as a medium-build male in his 20s, standing about 175 centimeters (five feet, nine inches) tall with medium-length hair over his ears. He was riding a bicycle in a dark gym-style jacket on the evening of January 15.
The manga devotes about half of its pages to depicting Chiba's life, based on testimonies from friends who remembered how he dreamed of becoming a professional manga artist. Chiba's 48-year-old mother and relatives traveled from Sendai to Kyoto to help distribute 500 of the 1,000 printed copies of the 20-page manga pamphlet on December 13.
The volunteers on the website are asking anyone who "noticed anything unusual, no matter how small, to please contact" the Kyoto Prefectural Police's investigation headquarters through the local telephone number 075-703-0110, the Japanese toll-free telephone number 0120-230-663, or the email address [email protected].
Source: Yomiuri Shimbun, Asahi Shimbun
---
follow-up of
Manga Created to Help Find Japanese Student's Killer