News

Third Hell Girl Anime Series Greenlit for Production (Updated)

posted on by Egan Loo
New series appropriately announced via the Hell Correspondence website
---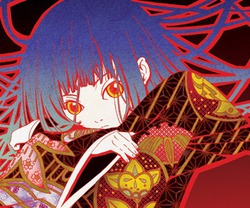 A third series of the Hell Girl supernatural horror anime has been greenlit for production in Japan. The anime's main story revolves around a "Hell Girl" that a person can summon, via a website, to condemn another human to Hell. However the price for the service is the summoner's own soul — condemned to Hell as well.
Appropriately enough, the new anime announcement has been made on the Japanese mobile version of the "real" Hell Correspondence website. (The mobile site is only accessible from a web-enabled Japanese mobile phone, and not from personal computers.) The announcement promises the return of the Hell Girl Ai Enma with new powers, and says more details will be provided at the appropriate time on the official website.
The first anime series aired in Japan from 2005 to 2006, and the second series followed from 2006 to 2007. Funimation licensed the first 26-episode series for North America and has released two of the six planned DVD volumes so far, but has not announced any plans beyond the first series. The IFC television channel in North America is planning to show Funimation's release. Del Rey Manga licensed the manga that was adapted from the anime. The anime has also been adapted into a live-action television drama series in Japan.
Source: Moon Phase Comments
Update: The announcement has now been made on the Japanese personal-computer version of the Hell Correspondence website as well. More information about the various adaptations have been added.
Image © Hell Girl Project/SKY Perfect Well Think, Aniplex
---