News

Kadokawa to Launch 4-Koma Nano Ace Magazine in March

posted on by Egan Loo
---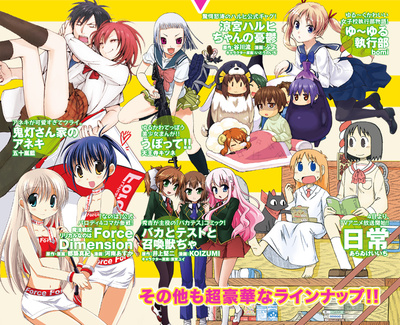 The Japanese publisher Kadokawa Shoten announced that it will launch a new magazine called 4-Koma Nano Ace on March 9. The magazine will feature four-panel manga with tie-ins in other media such as anime and light novels The first volume will include the following titles:
The Melancholy of Suzumiya Haruhi-chan by Puyo
Yuyuru Shikkōbu by bomi
Hōzuki-san Chi no Aneki by Ran Igarashi
Upotte!! by Kitsune Tennōji
Magical Girl Lyrical Nanoha Force Dimension by Asuka Kanan
Baka to Test to Shōkanjū Dya by Koizumi
Nichijou by Keiichi Arawi 
More titles will be announced later. The first volume will also have a Nichijou school calendar and a set of five clear four-panel manga bookmarks as bonus supplements.
---