News

Kadokawa to Launch 4-Koma Nano Ace Magazine in March

posted on

2011-01-28

18:02 EST
---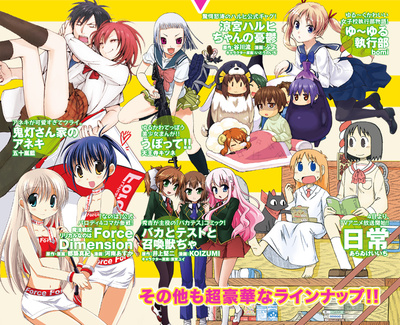 The Japanese publisher Kadokawa Shoten announced that it will launch a new magazine called 4-Koma Nano Ace on March 9. The magazine will feature four-panel manga with tie-ins in other media such as anime and light novels The first volume will include the following titles:
The Melancholy of Suzumiya Haruhi-chan by Puyo
Yuyuru Shikkōbu by bomi
Hōzuki-san Chi no Aneki by Ran Igarashi
Upotte!! by Kitsune Tennōji
Magical Girl Lyrical Nanoha Force Dimension by Asuka Kanan
Baka to Test to Shōkanjū Dya by Koizumi
Nichijou by Keiichi Arawi 
More titles will be announced later. The first volume will also have a Nichijou school calendar and a set of five clear four-panel manga bookmarks as bonus supplements.
---
You see it all the time in anime - the radio plays simple instructions and folks gather to do some basic calisthenics. Is that really a thing in Japan?
― Matt asks: Anime often depict radio calisthenics as something geared toward children or older people, but everyone always appears aware of what it is. Are radio calisthenics as ubiquitous as they appear? And what made them so popular? Radio Taisou,...
Gabriella Ekens discovers pleasant surprises and wicked twists from this CG adaptation of the popular thriller manga, and Paul runs down all this week's new anime releases!
― With the latest season of Natsume's Book of Friends earning high marks, I decided it was finally time to give the series a try. I'm watching it from the beginning, so I'm a few episodes into the first season as I write this. I'...
An entire classroom is transported to another world in this isekai series, and its protagonist must go about getting superpowers the hard way. Rebecca Silverman investigates.
― If there's one thing that sets Arifureta apart from its fellow isekai stories, it's that in this case, an entire high school class is transported to another world, not just one lucky young individual. Not only does this make t...
We check back in with Asuna on the real-world side of things for the first time in the Alicization arc, as the mysteries behind this new virtual world begin to unravel.
― Whatever criticisms might be leveled against SAO creator Reki Kawahara, lack of ambition when it comes to imagining applications for virtual technology isn't one of them. The Soul Transfer Engine that was introduced in the last nove...
See the talents at PiLi and Nitroplus show off their amazing puppetry from this year's Sakura-Con, as they answer our questions about the future of Thunderbolt Fantasy!
― This year, Sakuracon brought over the folks behind Thunderbolt Fantasy, 2016's fantasy adventure series about chivalry, puppets, and swords. This show was the wider world's introduction to PiLi, the superstar Taiwanese film studio k...
Sometimes it takes a bad guy to do a good guy's job! These six anime heels embraced the glory of being hero for a day in this Classic edition of The List.
― This week is a repeat! Sometimes antagonists can turn a new leaf and become the anti-hero we all deserve. Take a look at these six examples. The heroes might be the stars of the show, but a work of fiction is really made by an awesome antagonist...
This scattered volume proves that basing a manga on a Vocaloid song might not be the best idea. Rebecca Silverman explains why.
― Like Kagerou Daze, Bad End Night is based on a Vocaloid song. Unfortunately, that appears to be a premise too thin for an entire volume of manga, much less a series, and this volume can't quite decide if it's a mystery, a spoof on the "bad endings" of visual novels, or sel...
Studio Ghibli hires animators for Spirited Away director's last feature
― Studio Ghibli posted a job recruitment notice for animators on director Hayao Miyazaki's "final" film on Friday. The studio is hiring in-between animators and background artists on a three-year contract starting on October 1. The notice emphasized that the film is "director Hayao Miyazaki's final feature animation film" due to ...
Justin Sevakis, Daryl Surat and Mike Toole reconvene to take on Berserk, Ghost in the Shell, retro anime rereleases and a whole bunch of your Twitter questions!
― ANNCast Episode 296 - Supernerds United Justin Sevakis, Daryl Surat and Mike Toole reconvene to take on Berserk, Ghost in the Shell, retro anime rereleases and a whole bunch of your Twitter questions! You can listen to the show on our play...
From the Wizard of Oz to Ronja the Robber's Daughter, anime has a long and proud history of taking classic children's books and making them WAY more interesting.
― By this point we're all familiar with the way anime and manga loves Lewis Carroll's Alice's Adventures in Wonderland, but as some of you may know, that's hardly the only western children's classic to be adapted for Japanese audiences. Anim...
The final volume of Void's Enigmatic Mansion is far from perfect, but with stunning art and a largely satisfying conclusion, it's still worth a look. Rebecca Silverman dives in.
― Whether it's a monkey's paw or a magic lamp, all stories about wishes remind us that a wish can be as much curse as gift. That's a theme that's been explored in all four previous volumes of HeeEun Kim and JiEun Ha's Victori...