×
remind me tomorrow
remind me next week
never remind me
Subscribe to the ANN Newsletter • Wake up every Sunday to a curated list of ANN's most interesting posts of the week.
read more
News

Beez Loses All Stock in Sony Fire

posted on by Andrew Osmond
---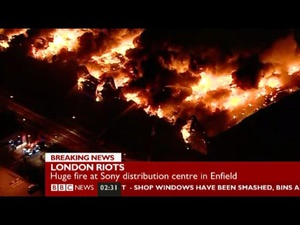 Beez Entertainment has now confirmed that it lost all its stock in Tuesday's fire at the Pias/Sony Distribution Centre in Enfield.
Beez tweeted the following message:
To confirm - all stock was destroyed, anything currently in shops will be the only stock that will be around for at least a few weeks. Thanks to everyone for their well wishes - we're just looking at what the best course of action is now for reprints etc. Rest assured - this is just a delay as opposed to anything else though and hang in there while we get moving again. We have a bit left from events past - but anything we do have, I'd advise if you're after it grab it there.
The three-storey, 20,000 square metre building caught alight during the riots on Tuesday night. Another U.K. specialist label which lost its stock was Third Window Films, which distributes such Japanese live-action films as Confessions, Love Exposure and Memories of Matsuko. (Its new U.K. cinema release, Villain, is due in cinemas on August 19.)
Third Window Films posted a message on its Facebook page about the fire's implications:
First off, we found out that all of our stock was insured which of course is great, but doesn't come close to solving the problem of continuing again as normal. While all of our stock was insured it was only around 19,000 units which were damaged, but minimum orders on all dvds and blu-rays are 1,000 units each. This means that if we wanted to make our whole catalogue available again we would need to replicate 32,000 units. We will receive credit for 19,000 units of replication (though yet unsure as to how such costs of things like expensive blu-ray original glass master costs will come into play) yet cannot afford to cover the costs of the other 13,000 for now. This would essentially mean that for now at least we will have many titles that we won't be able to manufacture for a while, if we even could....

The second part of this replication problem is that with Sony's main replication centre burnt down they have to do all their replication in a smaller centre in another location in the UK. This centre is now just for the big Q4 campaigns and is filled with the major releases for the final quarter of the year, but there are only so many units that can be replicated an hour by the machines there and there will be quite a pecking order in terms of what titles will be replicated first and by whom. As you can guess we, and other similar sized companies, are towards the very bottom of that ladder. (...)
---