×
remind me tomorrow
remind me next week
never remind me
Subscribe to the ANN Newsletter • Wake up every Sunday to a curated list of ANN's most interesting posts of the week.
read more
News

Crunchyroll Adds Horizon II, Kokoro Connect, Sword Art Online

posted on by Egan Loo
---

Online media service Crunchyroll annnounced more titles in its simulcast lineup for the upcoming summer season:
Horizon in the Middle of Nowhere II is the second season of last Fall's ecchi sci-fi fantasy story. In the distant future, people have created a history book called "Testament" and follow its contents to reproduce the events in history. After retrieving Horizon from the Testament Union following the Mikawa Uprising, Tori and the others seek out the Armor of Deadly Sins, Horizon's emotions, and head for their next destination, the floating isle, England, on board their flying city-warship, Musashi. However, Tres España is also beginning to sail for the Battle of the Armada. Sentai Filmworks announced its acquirement of the series' home video and digital rights at Anime Expo on Friday. The series premieres July 7.

Chitose Get You!! is based on Etsuya Mashima's four-panel manga. The story follows an elementary school girl named Chitose (Sayaka Nakaya) who wildly pursues the love of Hiroshi, an older young man who works at the town hall next to her school. The TV anime premieres July 1.


Fantasy anime Campione! follows an ordinary high school student named Godō Kusanagi (Yoshitsugu Matsuoka ) who kills a god and claims its powers. As a result, Godō becomes a Campione! who slays other gods. The anime premieres on July 6.


So, I Can't Play H! (Dakara Boku wa, H ga Dekinai.) is based on Pan Tachibana's romantic comedy light novel series. The story follows Ryōsuke (Hiro Shimono), Tōen Gakuen's No. 1 pervert, while he lives with the Godess of Death Risara (Aya Endo) under a contract. Part of the contract called for him to give up his erotic spirit, so he cannot get excitement from watching girls and wonders if his adolescent days are over. The series premieres July 6.


Jinrui wa Suitai Shimashita, based on Romeo Tanaka's light novel series, is set several centuries into the slow decline of mankind. Earth has now become the realm of "fairies" — 10-centimeter-tall (about 4-inch-tall) creatures with remarkable intelligence. Watashi (Mai Nakahara ) agrees to what she believes to be an easy job but turns out to be anything but, the international arbitrator between the fairies and humans. The series premieres July 1.


Noitamina's Natsuyuki Rendezvous anime adaptation of Haruka Kawachi's Natsuyuki Rendezvous josei manga tells the story of a love triangle between Hazuki (Yūichi Nakamura), a young man who works part time at a flower store, Rokka (Sayaka Ohara), the widow who owns the store, and the ghost of Shimao (Jun Fukuyama), Rokka's deceased husband. The series premieres on Fuji TV on July 5.


Based on Sadanatsu Anda's Kokoro Connect light novel series, the "love and teen pentagonal comedy" anime follows the strange phenomena at the Yamahoshi Academy's Culture Club, starting with the five male and female club members switching bodies with each other. The series premieres July 7.


La storia della Arcana Famiglia adapts HuneX and Comfort Soft's adventure game for female players. The story follows Arcana Famiglia, a self-appointed organization with mysterious powers that has protected a small Mediterranean island from pirates, foreign countries, and other threats. The only daughter of the family's "Papa," Felicitá (Mamiko Noto), will be married to the next head of the family in two months — and the successor will be decided in a competition that Felicitá herself will take part in. The series premieres July 1.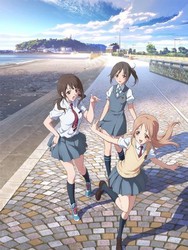 P.A. Works' Tari Tari TV anime centers around five Japanese high school students who are too young to be called adults, but who no longer think of themselves as children. Music brings Wakana (Ayahi Takagaki) , Konatsu (Asami Seto), Sawa (Saori Hayami), Taichi (Nobunaga Shimazaki) and Wiin (Natsuki Hanae) together into a musical ensemble during their last summer in high school. The series premieres on July 1.


Sword Art Online adapts Reki Kawahara (Accel World)'s light novel series of the same name. The story revolves around a boy named Kazuto "Kirito" Kirigaya who enters a virtual-reality, massively multi-player online (MMO) world called "Sword Art Online." There is no escape from this world unless the player clears the game, but "game over" means the death of the player.
The two-cours (two-quarter or half-year) television anime will premiere in Japan on July 7.
Crunchyroll also announced that it will begin streaming to PlayStation 3 consoles and certain Samsung televisions.
---