×
remind me tomorrow
remind me next week
never remind me
Subscribe to the ANN Newsletter • Wake up every Sunday to a curated list of ANN's most interesting posts of the week.
read more
News

Da Vinci Code Author Dan Brown Gains Super Powers in Official Japanese Manga

posted on by Egan Loo
---
Dan Brown, the author known for international bestsellers such as The Da Vinci Code and Angels and Demons, is becoming a character himself in Kafuka Asagiri's manga Bungo Stray Dogs (Literary Stray Dogs). The first illustration debuted on Friday:

The "battle action" story Bungo Stray Dogs centers around a league of literary figures with supernatural powers. For example, in real life, Ryūnosuke Akutagawa wrote acclaimed stories that inspired Akira Kurosawa's Rashōmon film and the Aoi Bungaku Series anime's Jigoku Hen (Hell Screen) arc. In Bungo Stray Dogs, he has the power to transform and manipulate his cloak into a monster-like entity. Together, these writers solve mysteries as part of the "Armed Detective Agency."
Brown himself will have the power of "Inferno" — the ability to compose a three-line poem that offers a glimpse of "hell." The "hell" is actually a reflection of what the real world would be like, 33 minutes from now, so anyone who can decipher the poem can predict the future. Unfortunately, "only Brown himself has the historical and religious knowledge to decipher the poems." (Not coincidentally, Brown's latest novel, Inferno, debuted in English and Japanese this year.)
In the third volume that Kadokawa published on December 4, Bungo Stray Dogs already introduced overseas authors such as Russian author Fyodor Dostoyevsky (Crime and Punishment, The Brothers Karamazov) and British mystery writer Agatha Christie (Murder on the Orient Express, The Mousetrap).
When the publishing staff of the manga asked Brown to be a part of the manga, he agreed, saying:
"I've always wanted to be Mangafied."
The first two contemporary writers who agreed to be "mangafied" were Yukito Ayatsuji (Another novel/manga/anime/live-action film, Tsukidate no Satsujin) and Natsuhiko Kyogoku (Requiem from the Darkness, Mōryō no Hako, Tōfu Kozō, Loups-Garous). Here are some of the other characters, as drawn by novel illustrator Harukawa 35:
Osamu Dazai (No Longer Human, Hashire Melos!)

Atsushi Nakajima

Doppo Kunikida

Ranpo Edogawa (The Strange Tale of Panorama Island, Boys Detective, Wanpaku Tanteidan)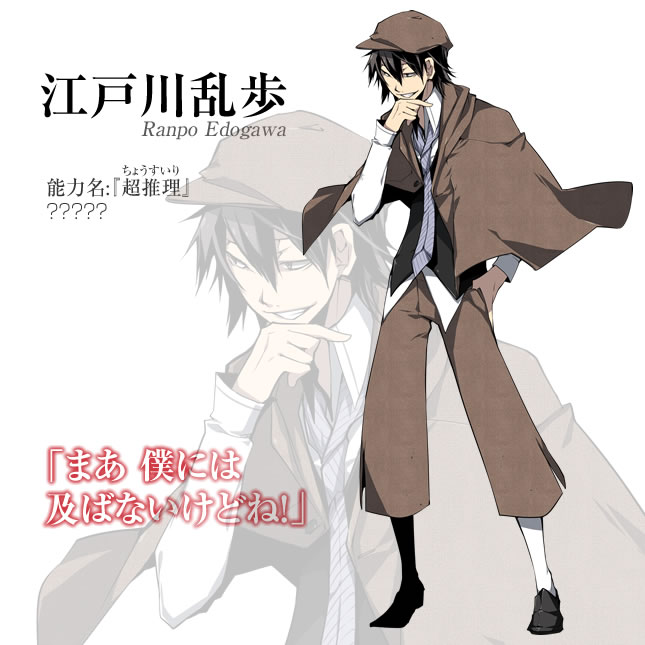 Kenji Miyazawa (Night on the Galactic Railroad, Guskō Budori no Denki, Spring and Chaos)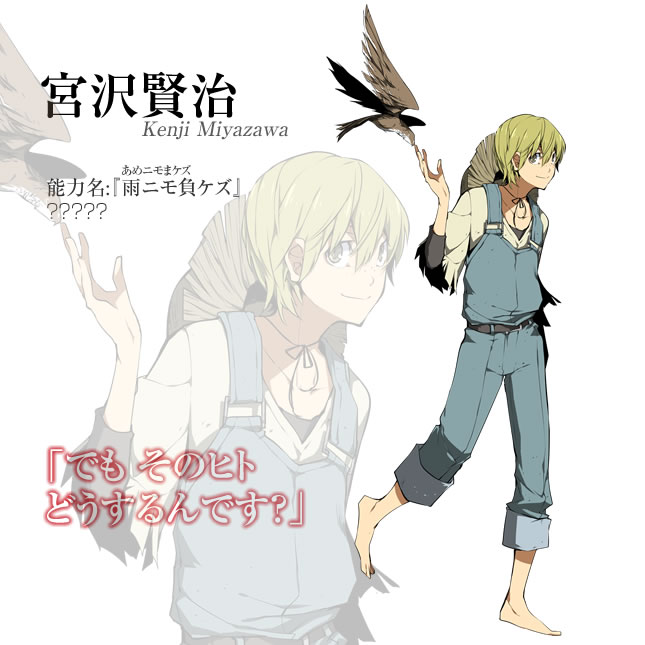 Akiko Yosano

Source: PR Times
---