News

EXILE's Akira Reprises GTO in Live-Action Taiwan Mini-Series

posted on by Egan Loo
4-episode show to premiere on March 22 with Onizuka teaching in Taiwanese high school
---

The live-action 2012-2013 GTO television remake starring EXILE dance/vocal group member Akira is returning with a four-episode GTO Taiwan mini-series. This joint Japanese/Taiwanese production was shot entirely on location in Taiwan and will premiere first on Taiwanese cable television channel GTV on March 22. The project's official website will announce when and how the mini-series will debut in Japan.
32-year-old Akira (pictured in center) reprises his role as Onizuka, a former gang member who becomes a "legendary" unorthodox teacher. Joining Akira are 28-year-old Yuu Shirota as Onizuka's old friend Ryūji Danma and 26-year-old Yūsuke Yamamoto as Onizuka's policeman friend Toshiyuki Saejima. Taiwanese actors such as Genie Chuo (as a female teacher and heroine), SpeXial band members Hong Zheng and Wei Jin, Lele Cheng, and Han round out the cast.
In the brand-new story by returning scriptwriter Junpei Yamaoka, the blond instructor is invited to teach at a Taiwanese high school for a one-week training program. While there, Onizuka saves a student who is suffering from bullying. The screenplay features dialogue in both Japanese and Mandarin Chinese.
Kazuhisa Imai is returning from Akira's first GTO television series and specials to direct the new project. Principal photography began last August, primarily in Taipei and New Taipei. The Sun Yat-sen Memorial Hall and other locales stood in as Onizuka's school in Taiwan, and Akira, Shirota, Yamamoto shot night scenes in the "energetic" local streets filled with street vendors.
The project received funding from Cool Japan, the Japanese government's initiative to encourage the efforts of the Japanese creative industries abroad. Tohru Fujisawa's original GTO manga has been already been popular in Taiwan before Kansai TV, MMJ, and Comic International Productions decided to produce this Taiwanese-based mini-series.
Akira himself already visited Taiwan over 20 times before shooting this project. This is Shirota's first live-action overseas television production. He half-jokingly said that, after creating a show for over 1 billion Chinese-speaking people, he would like make something for English-speakers in the United States — particularly Las Vegas.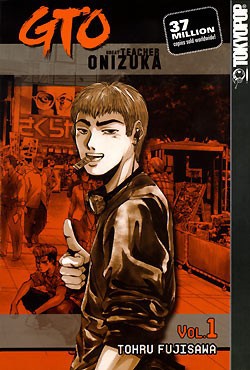 The original manga has over 45 million copies in print, and it previously inspired a 1998 live-action television series with Takashi Sorimachi in the title role. The earlier live-action version garnered an average rating of 28.5% and a series-high rating of 35.7% for the finale. The 11-episode remake live-action series starring Akira aired from July to September 2012. Akira already reprised the role in three specials in October 2012, January 2013, and April 2013.
The Comic Natalie site posted more screenshots from the new mini-series.
Sources: Sankei Sports, Comic Natalie
Images © 2014 Kansai TV © Tohru Fujisawa/Kodansha
---