News

Japanese Box Office, April 12-13

posted on by Karen Ressler
---

Crows Explode, the third live-action film inspired by Hiroshi Takahashi's Crows fighting manga, opened this weekend at #2. The film introduces the new cast at Suzuran Boys' High School after Genji Takiya and Tamao Serizawa have graduated. Masahiro Higashide (live-action XXXHolic) plays the protagonist — a transfer student named Kaburagi "Desperado" — and Taichi Saotome (Prince of Tennis: Eikoku-shiki Teikyū-jō Kessen!) plays first-year student Ryōhei "Joker" Kagami, who aims to reach the top of the Suzuran pecking order. The film did not rank on Box Office Mojo's chart.

Eiga Doraemon Shin Nobita no Daimakyo ~Peko to 5-nin no Tankentai~ (Doraemon the Movie: New Nobita's Great Demon ~Peko and the Exploration Party of Five~ fell from #2 to #3 in its sixth weekend. The film remakes the 1982 film Doraemon: Nobita's Great Demon, which was written by original Doraemon co-creator Fujiko F. Fujio, and follows the heroes of the Doraemon television series as they go on an adventure to help a dog prince return to his kingdom, deep within an unexplored land. The film also ranked #3 on Box Office Mojo's chart and earned 97,094,548 yen (US$947,934) on 361 screens for a new total of 3,307,496,458 yen (US$32,291,088).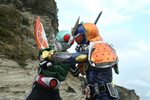 The Heisei Rider vs. Showa Rider Kamen Rider War feat. Super Sentai film fell from #3 to #4 in its third weekend. The film features more than 30 Riders, including 15 Showa-era Riders led by Kamen Rider 1 and 15 Heisei-era Riders such as those from the ongoing Kamen Rider Gaim television series. Hiroshi Fujioka, who played the original Kamen Rider 1, returned to the part after 38 years. The film ranked #2 on Box Office Mojo's chart and earned 98,877,120 yen (US$965,337) on 293 screens for a new total of 772,432,085 yen (US$7,541,254).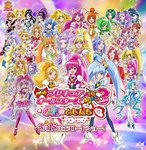 Eiga Precure All Stars New Stage 3: Eien no Tomodachi fell from #6 to #9 in its fifth weekend. In the story, the world of dreams is threatened, so nine teams of Precure girls from the franchise's different television anime series unite to defend everyone's dreams. The characters from the newest series, HappinessCharge Precure!, feature prominently. The film also ranked #9 on Box Office Mojo's chart and earned 33,389,011 yen (US$325,977) on 209 screens for a new total of 842,504,995 yen (US$8,225,376).
Sources: Kogyo Tsushinsha, Box Office Mojo
---
This article has a follow-up:
Japanese Box Office, April 19-20
(2014-04-28 05:20)
follow-up of
Japanese Box Office, March 29-30