News

Anime Limited Plans Patema Inverted U.K. Kickstarter Campaign

posted on by Andrew Osmond
Kickstarter campaign for "Definitive" home edition will provisionally go live on May 2.
---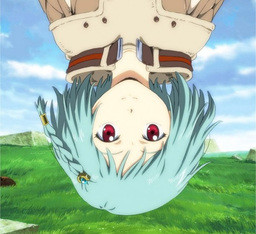 Anime Limited has announced plans to launch a Kickstarter for a "Definitive' home edition of the feature film Patema Inverted. The company has also put up a draft page (not live) on the Kickstarter site, giving a goal of £16,000.
The Kickstarter page specifies, 'Anime Limited is already a good way into production including the dub with NYAV Post... We are already planning a collector's edition release of this film similar to our previous releases."
However, the Kickstarter would be geared towards launching an 'Ultimate Edition' unique to the UK. It would include a 136-page art book, a custom digipack, and other extras.
According to Anime Limited's site, the Kickstarter campaign will provisionally go live on May 2. If the initial target is reached, possible stretch goals would include exclusive illustrations from the character and background designers; the soundtrack as released in the Japanese Collector's Edition; and additional written content. The Kickstarter would have no impact on Anime Limited's release of Mai Mai Miracle.
From the draft Kickstarter page:
For a film of this high quality, there are so many ways to create a deluxe edition. This Kickstarter campaign will allow us to go above and beyond even our usual quality in order to give fans in the UK the definitive edition of the film - a cut above even our normal high quality of release.

In short - this campaign will allow us to arrange and package Patema Inverted in the best possible way, which would not usually be commercially viable. It will also give you the chance to own the title before it hits general retail...

We're trying to create a new breed of product that goes above and beyond even our regular collector's format. The main risk of doing this, is that this kind of release would be simply beyond what is reasonable to just "put up on Amazon and see if it works". Our aspirations for this title go well beyond that.

If we were to release the definitive edition normally, i.e. via Amazon or other retailers immediately, the cost of the release would need to be about £84.99. That is simply too high, especially if we want to get this edition into the hands of as many fans as possible at a reasonable price point.

That's why we are proposing a 1,500 unit print run, every edition numbered, exclusive to Kickstarter with any remaining units leftover to be sold at a higher price via retail at a later date (SRP of £84.99).

In addition, we're trialling a new model of release that means if you support the Kickstarter for the amaray or regular collector's combi-packs, you'll get it before it hits retailers. So, if you support our attempt to make a cool release early you get your copy early.
The Kickstarter page details where the money would go, specifying that none of it would be used to pay for the rights to the Patema Inverted art book or film. The tiered rewards, listed on the right on the Kickstarter page, include different editions of the Patema Inverted release, from an Amaray Blu-ray/DVD combo pack up to the 'Ultimate Edition' of the film.
---