News

Crunchyroll Adds Log Horizon 2 to Streaming Line-Up

posted on by Lynzee Loveridge
Series will premiere on Saturday for premium members
---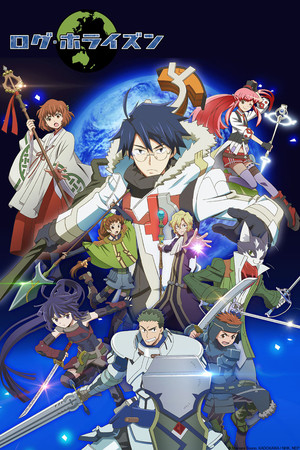 Media distribution service Crunchyroll announced on Wednesday that it will stream the 25-episode television anime Log Horizon 2. The first episode will premiere on Saturday, October 4 at 7:30 a.m. EDT for premium members and one week later for free users.
The stream will be available for premium members in North America, UK, Ireland, South Africa, Australia, New Zealand, Latin America, Scandinavia, Turkey and the Netherlands.
NHK Enterprises' English flier describes the story:
Veteran gamer Shiroe and other players have been trapped in the world of the online game Elder Tales for six months. The once chaotic city of Akiba has regained its everyday hustle and bustle following the formation of the self-governing organization Round Table Meeting. The earthlings, who are originally from the game world, have gained the trust of Shiroe by waging a defensive war against the Goblins in Zantleaf Region. This has led Princess Rayneshia of the Cowen family, the highest-ranking Earthling Aristocrats, to live in Akiba.

It's almost winter, and the Adventurers are thinking about what they're going to do and what their goals are in this other world. Will they remain in Akiba or go to the city of the West? Or will they travel to the land of the North or another faraway country? The opinions of the Adventurers begin to diverge. What adventures await the members of the Shiroe team in this second series of Log Horizon?
Shinji Ishihira is returning to direct the series at Studio DEEN with series composition by Toshizo Nemoto. Tetsuya Kumagai (Skip Beat!) is replacing Mariko Ito as character designer. Masakazu Miyake (Humanity Has Declined) is replacing Yuki Nomura as art director, Imari Katsuragi (Pupa) is replacing Tomomi Murakami as color designer, and Shinyo Kondo (Is This a Zombie?) is replacing Yuujirou Yamane as the director of photography.
The band Man with a Mission will return to perform the opening theme "database" with singer Takuma from the band 10-Feet. Yun*chi will return from the first series to perform the second season's ending theme song, "Wonderful Wonder World*."
The site also announced the season's cast. Emiri Kato, Tomoaki Maeno, and Takuma Terashima will reprise their roles as Akatsuki, Naotsugu, and Shiroe, respectively. Other returning cast members include:
Takahiro Sakurai as Crusty
Ayahi Takagaki as Henrietta
Shōhei Kajikawa as Hien
Satoshi Hino as Isaac
Eriko Matsui as Isuzu
Marina Inoue as Kanami
Nobuhiko Okamoto as Karashin
Tsubasa Yonaga as Kinjō
Rie Murakawa as Lizé
Tetsuya Kakihara as Lundellhaus
Yumi Hara as Marielle
Hiroki Gotou as Michitaka
Nao Tamura as Minori
Kaori Nazuka as Nazuna
Jouji Nakata as Nyanta
Keiji Fujiwara as Regan
Masaki Terasoma as Roderick
Misaki Kuno as Serara
Ryota Ohsaka as Shōryū
Hiro Shimono as Sōjirō
Yukiyo Fujii as Tetra
Daiki Yamashita as Tōya
Yūichi Nakamura as William Massachusetts
Hiroshi Shirokuma as Woodstock W
The adaptation of Mamare Touno's novel begins when 30,000 Japanese gamers are trapped in the fantasy online game world Elder Tale. What was once a "sword-and-sorcery world" is now the "real world." Shiroe, Naotsugu, and Akasuki join together to survive.
Touno debuted his novel on the user-generated content site Shōsetsuka ni Narō in 2010. Motoya Matsu then launched his Log Horizon Gaiden Honey Moon Logs manga adaptation in ASCII Media Works' Monthly Comic Deneaki Daioh magazine that same year. Kazuhiro Hara began serializing the main manga adaptation on Enterbrain's Famitsu Comic Clear website in 2012 also, and Koyuki began drawing another manga called Log Horizon ~Nishikaze no Ryodan~ in Fujimi Shobo's Age Premium website in 2012.
Yen Press licensed both the original novel series and Kazuhiro Hara's manga adaptation for release next year.
Crunchyroll streamed the first season as it aired in Japan, and Sentai Filmworks has licensed the series for North American release.
---