×
remind me tomorrow
remind me next week
never remind me
Subscribe to the ANN Newsletter • Wake up every Sunday to a curated list of ANN's most interesting posts of the week.
read more
News

Yen Press Adds Durarara!! Novels, Strike the Blood, Black Bullet, Rust Blaster Manga

posted on by Karen Ressler
---

Yen Press announced on Friday that it has licensed the manga Strike the Blood, Black Bullet, Puella Magi Homura Tamura, Puella Magi Madoka Magica: Homura's Revenge, and Rust Blaster. In addition, Yen Press announced the Durarara!!, Black Bullet, and Strike the Blood light novels for its Yen On imprint.
Ryohgo Narita's Durarara!! novels with art by Suzuhito Yasuda have inspired multiple adaptations, including a television anime in 2010 and anime sequel premiering this week, multiple video games, and several manga series. Yen Press publishes the manga in North America, while Aniplex of America licensed the anime. The novels' first arc ended in 2014 with the 13th volume, and Narita relaunched the series as Durarara!! SH.
Yen Press will publish the first novel in July 2015.

Shiden Kanzaki began publishing Black Bullet under the Dengeki Bunko label with illustrations by Saki Ukai in July 2011, and ASCII Media Works published the seventh volume in April. Hon Morino's manga adaptation began in 2012 and ended in June, and the fourth compiled volume shipped in July. The anime adaptation streamed on Crunchyroll in April and Sentai Filmworks licensed the series.
Sentai Filmworks describes the story:
No longer a boy yet not quite a man, Rentaro has already led a tough life. It's the year 2031 and ten years have passed since his parents – along with most of mankind – were killed by an alien parasitical virus known as Gastrea. As a second year student at Magata High School, Rentaro, along with his childhood friends, Kisara Tendo and Enju Ahari, have formed the Tendo Civil Security to tirelessly fight against Gastrea. Born as one of the "Cursed Children" infected with the virus, giving her superhuman abilities and the power to control the virus, as well, Enju is Rentaro's Model Rabbit Initiator. Operating as a pair with Enju as Initiator, and Rentaro as Promoter, serving to lead the cursed children, they must together work as a team to dismantle evil brought on by Gastrea.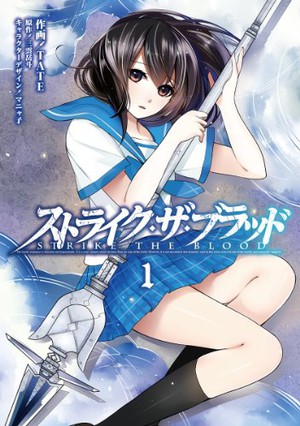 Gakuto Mikumo (Asura Cryin', The mystic archives of Dantalian) launched the Strike the Blood novel series with illustrations by Manyako in 2011, and ASCII Media Works released the 11th volume in September. TATE has been serializing a manga adaptation in ASCII Media Works' Monthly Comic Dengeki Daioh magazine since 2012, and the fifth compiled volume shipped in September. Crunchyroll streamed the anime adaptation as it aired in 2013.
The school action fantasy story revolves around Kojō Akatsuki, a boy deemed the "fourth progenitor" — the world's most powerful vampire, once thought to only exist in legend and lore. In the Itogamijima special zone for demons, a girl named Yukina Hirameki is entrusted with watching over the vampire and if needed, hunting him down.

Puella Magi Homura Tamura ( Mahou Shojo Homura Tamura ~Heikō Sekai ga Itsumo Heikō de Aru to wa Kagiranai no da.) is a four-panel fantasy slice-of-life spinoff of the Puella Magi Madoka Magica anime and manga. Afro drew the manga based on Magica Quartet's story. The manga serialized in Houbunsha's Manga Time Kirara Magica and Houbunsha published the first compiled volume in October 2013.


In the story of Puella Magi Madoka Magica: Homura's Revenge, both Madoka and Homura go back in time instead of just Homura. Arist Masugitsune and writer Kawazukuu created the series based on Magica Quartet's story. The manga serialized in Houbunsha's Manga Time Kirara Magica and Houbunsha published both volumes in December 2013.


Rust Blaster is Black Butler author Yana Toboso debut work, and follows a human boy who enrolls in a vampire school and meets a vampire who is not very vampire-like. The series ran in Square Enix's Square Enix's GFantasy in Square Enix published it in one compiled volume in 2006.
---