×
remind me tomorrow
remind me next week
never remind me
Subscribe to the ANN Newsletter • Wake up every Sunday to a curated list of ANN's most interesting posts of the week.
read more
News

Yowamushi Pedal, The Seven Deadly Sins Win 39th Kodansha Manga Awards

posted on by Sarah Nelkin
---
Japanese publisher Kodansha announced the winners on Tuesday for its 39th annual Manga Awards.
Best Shōnen Manga

The Seven Deadly Sins
Nakaba Suzuki
Serialized in
Weekly Shōnen Magazine
(Kodansha)
Summary from
Kodansha Comics
: "When they were accused of trying to overthrow the monarchy, the feared warriors The Seven Deadly Sins were sent into exile. Princess Elizabeth discovers the truth - the Sins were framed by the king's guard, the Holy Knights - too late to prevent them from assassinating her father and seizing the throne!
Now the princess is on the run, seeking the Sins to help her reclaim the kingdom. But the first Sin she meets, Meliodas, is a little innkeeper with a talking pig. He doesn't even have a real sword! Have the legends of the Sins' strength been exaggerated?"

Yowamushi Pedal
Wataru Watanabe
Serialized in Weekly Shōnen Champion (Akita Shoten)
The story centers around Sakamichi Onoda, a high school otaku who loves figures from anime and games so much that he would ride his commuter bicycle to and from Tokyo's Akihabara shopping district in a 90-kilometer (about 60-mile) round trip over steep slopes. Onoda ends up joining the competitive sport of bicycle racing.

Best Shōjo Manga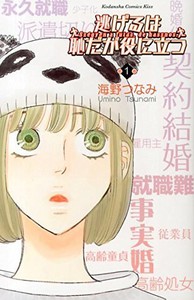 Nigeru wa Haji da ga Yaku ni Tatsu
Tsunami Umino
Serialized in
Kiss
(Kodansha)
Mikuri Moriyama has a graduate degree, but because of job scarcity she can only find temporary employment. She finds work as a personal housekeeper for Hiramasa Tsuzaki, a subordinate at her father's company. When her parents decide to move to the countryside for retirement, Mikuri is running out of time to find a more permanent job. Torn about what to do, Tsuzaki suddenly proposes to Mikuri, and the two enter a "contract marriage" since Mikuri wants to let her parents move to the countryside without worry and Tsuzaki doesn't want to hire another housekeeper.
Best General Manga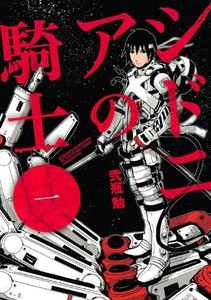 Knights of Sidonia
Tsutomu Nihei
Serialized in
Afternoon
(Kodansha)
The story takes place after humans flee Earth due to the devastating invasion of alien creatures called Gauna. Humans travel through space in giant ships while the Gauna continue to pursue them. As a new human culture develops, people fight the Gauna with Morito (Guardian) robotic
mecha
. A young man named Nagate Tanikaze trains as a Morito pilot aboard the spaceship
Sidonia
and defends its people from Gauna attacks.
Special Award

Cooking Papa
Tochi Ueyama
Serialized in
Morning
(Kodansha)
The story revolves around a salaryman who cooks for his family, since his wife is unskilled at cooking. However, he doesn't want the workers in his office to find out about his talent.
Cooking Papa is celebrating its 30th year of serialization this year, and the series currently has 130 volumes in print. The staff of Kodansha comment on how they want to express their gratitude to such a popular work that has been supported by its readers.
The staff also note that this year, the "Best Children's Manga" award was combined with the Shōnen and Shōjo categories.
Each winner will receive a bronze statuette and 1 million yen (about US$10,000). Yuma Ando (Psychometrer), Miyuki Kobayashi (Kitchen Princess), Tohru Fujisawa (GTO), Kousuke Fujishima (Oh My Goddess!), Takeshi Maekawa (Ironfist Chinmi), Kazumi Yamashita (The Life of Genius Professor Yanagizawa), and Norifusa Mita (Dragon Zakura) formed the seven-member judging committee.
---