News

Persona 5 Character Descriptions Posted

posted on by Karen Ressler
---
The official website for the Persona 5 video game updated with character descriptions. The characters, with their previously-announced cast members, are: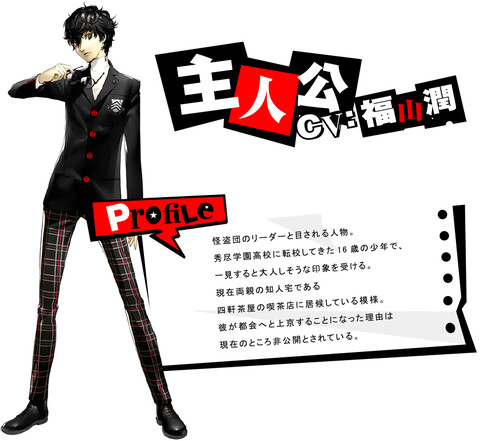 Jun Fukuyama as Protagonist, the person who is considered the leader of the phantom thief group. He is a 16-year-old boy who just transferred to a new high school, but he seems adult-like at a glance. He currently lives with his parents' friend at a teahouse. His reason for coming to the big city is private for now.



Mamoru Miyano as Ryuji Sakamoto. Like the protagonist, he's a 16-year-old second-year in the same high school. He displays wild behavior, so is considered a problem child at school. He's usually watched by the teachers and advisers at school. He didn't used to have act like this, so what was the cause of his bad behavior?



Nana Mizuki as An Takamaki, a student at the same school. She is 16-year-old quarter American. Because of her stand-out appearance, she tends to cut herself off from her surroundings at school. She spends time with the protagonist and Ryuji. There's a weird rumor about her going around the school, but it's unclear whether or not it's true.



Ikue Ohtani as Morgana, the most mysterious part of the phantom thief group. Morgana has the height of a child and the appearance of a black cat, but Morgana's identity is completely unknown. That looks like a headpiece...? That's all the information there is so far. Morgana resembles a black cat that spends time with the protagonist, but...
Other cast members include:
Atlus announced Persona 5 was for a Winter 2014 release on PlayStation 3 in Japan, but after two delays it is now slated for next summer on PlayStation 4 and PlayStation 3. Atlus USA will release the game in North America in 2016 after the delay.
[Via Dengeki Online]
---