News

Terror in Resonance and Fate/Stay Night Unlimited Blade Works Released Monday

posted on by Andrew Osmond
---

On Monday April 25, Anime Limited will release the series Terror in Resonance both as a Blu-ray/DVD Ultimate Edition and also as a standard DVD. The Ultimate Edition comes with a 120-page hardback (containing artwork, interviews and production drawings), and also a slipcase.
Funimation has described the story:
Legendary director Shinichiro Watanabe and famed composer Yoko Kanno are back with a suspense-filled intellectual thriller!

Tokyo has been hit by a shocking terrorist attack, and the only hint to the identity of the culprit is a bizarre video uploaded to the internet. The police, baffled by this cryptic clue, are powerless to stop the paranoia spreading across the population.

While the world searches for a criminal mastermind to blame for this tragedy, two mysterious children – children who shouldn't even exist – masterfully carry out their heinous plan. Cursed to walk through this world with the names Nine and Twelve, the two combine to form "Sphinx," a clandestine entity determine to wake the people from their slumber – and pull the trigger on this world.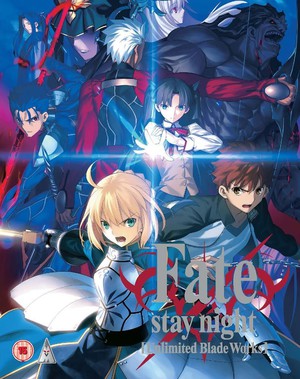 MVM will release Fate/stay night Unlimited Blade Works part 1, both as a Collector's Edition Blu-ray and a standard DVD. The Collector's Edition comes with a Season 1 Key Art poster, four Seal Command stickers, and a 24-page booklet containing concept art, storyboards and breakdowns.
From the Anime-On-Line site:
The Holy Grail War has begun. An ancient ritual, seven masters and their seven holy spirits fight to the death. It's said the winner who possesses the Holy Grail is granted any wish they desire. Rin Tohsaka has been training to become a master her whole life, just like her father. Rin and her servant Archer form an unlikely bond with Emiya Shirou who finds himself becoming the master of Saber, one of the most powerful servants in the Holy Grail War. Working together they have to survive knowing only one master can remain. Saber, Lancer, Archer, Rider, Caster, Assassin and Berserker. Who of these seven heroic spirits will earn the mythical Holy Grail and what will they wish for?

Finally, Anime Limited is releasing the second part of its standard edition of Kill la Kill on Blu-ray and DVD, carrying parts 10 to 19 of the series.
---