News

Your Lie in April Live-Action Film Unveils Visual, Additional Cast

posted on by Rafael Antonio Pineda
---
The official website of the live-action film adaptation of Naoshi Arakawa's Your Lie in April (Shigatsu wa Kimi no Uso) manga unveiled a new visual and additional cast for the film on Thursday. The visual recreates the cover of the manga's first volume, featuring Kento Yamazaki (left) as Kōsei Arima, and Suzu Hirose (right) as Kaori Miyazono.

The additional cast includes Rei Dan as Kōsei's mother Saki Arima, and Yuka Itaya as Hiroko Seto, Saki's colleague and Kōsei's guardian. Masahiro Komoto and Hirotaro Honda will also play as-yet unannounced roles in the film. They will join the rest of the film's cast:
Kento Yamazaki (Orange live-action film's Kakeru, Death Note live-action series' L) as Kōsei Arima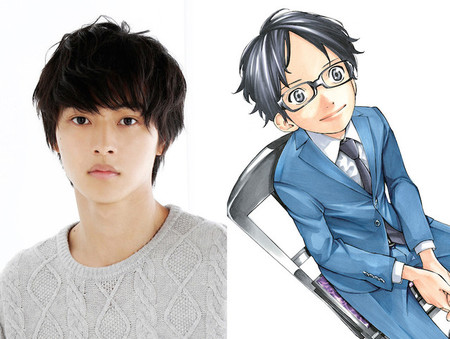 Suzu Hirose (Chihayafuru: Shimo no Ku's Chihaya, Umimachi Diary live-action film's Suzu) as Kaori Miyazono


E-girls all-female pop group member Anna Ishii will play Kōsei's childhood friend Tsubaki Sawabe, and Taishi Nakagawa (Ao Oni ver.2.0's Hiroshi, Minami-kun no Koibito ~my little lover live-action series' Minami) will play Ryōta Watari. Boku no Hatsukoi wo Kimi ni Sasagu and Kiyoku Yawaku live-action romance film director Takehiko Shinjō is directing off scripts by Strawberry Night live-action series scriptwriter Yukari Tatsui.
The film will open in Japan on September 10.
Kaori: Friend A, I name you as my accompanist.
Text: The tear-filled youth love story finally gets a film.
Text: The naive and bright violinist.
Text: The genius pianist who can no longer play the piano.
Kōsei: I can't play.
Kaori: Just try it.
Kaori: Let's just leap forward as hard as we can!
Kōsei: You're the embodiment of free-spirited, aren't you?
Text: But she...
Text: Has a secret she can't tell anyone.
Narrator and Logo: Your Lie in April

In the original manga's story, the two characters are junior high school students, but Kōsei and Kaori will be second-year high school students in the film. Yamazaki and Hirose began practicing piano and violin about half a year before the start of filming.

A television anime series adaptation of Arakawa's manga premiered in 2014. Aniplex of America streamed the anime on the Aniplex Channel, Hulu, and Crunchyroll as it aired in Japan. The company is releasing the series with an English dub, with the first Blu-ray Disc released on March 29, and the second volume slated for May 31.
Arakawa's original shōnen manga follows Kōsei Arima, a former child prodigy who lost his ability to play the piano when his mother died. His daily life is monochrome, but it begins to gain color when he meets a female violinist by chance. Kaori Miyazono is an audacious go-getter who is overflowing with personality. Enchanted by the girl, Kōsei starts to move forward with his own legs at the age of 14.
The manga debuted in Kodansha's Monthly Shonen Magazine in 2011, and ended in February 2015. Kodansha published the 11th and final compiled volume in Japan last May, which shipped with an OVA episode. The series won the Best Shōnen Manga category in Kodansha's 37th Annual Manga Awards in 2013. Kodansha Comics is releasing the manga in North America, and released the seventh volume on Tuesday.
Image © Naoshi Arakawa/Kodansha
Source: Comic Natalie
---