News

Pigtails, Complex x Complex, More Short Films to Screen in NYC

posted on

2017-05-18

17:00 EDT
8 shorts scheduled for June 2
---

The Asia Society revealed eight Japanese animated short films that will screen at its New York Japan CineFest event on June 2. The screening will take place from 6:30 p.m. to 8:15 p.m. in New York City. The eight titles are listed below.
Pigtails
Production I.G's 28-minute animated short film based on Machiko Kyō's Mitsuami no Kami-sama (Braided Pig-Tail Deity) manga. was part of a mixed-media stage production that ran in Tokyo in October 2015. Yoshimi Itazu (Miss Hokusai chief animation director) helmed the short film for his directorial debut. The film has won multiple awards, including the Diamond Award in the Animated Film category at the 2016 California Film Awards.
Kyō's original Mitsuami no Kami-sama manga centers around a pigtailed girl who lives alone in a solitary house by the sea after a disaster that is never specified. The manga is a reflection of Kyō's personal feelings toward the March 11, 2011 earthquake and tsunami, although it is never explicitly stated in the story, out of consideration for those affected by the disaster.
Complex x Complex
Miyuki Fukuda directed the 25-minute short film in 2015. Asia Society describes the film:
Eighth grader Yui longs to be a grown-up. She considers armpit hair the symbol of adulthood, so her classmate Takeo—who has the thickest underarm hair in the class—becomes her idol. Is it love? A coming-of-age story about puberty, love, and halting conversation.
"Vita Lakayama"
Akihito Izuhara directed the eight-minute short film in 2015. Asia Society describes the film:
In the woods, every creature is sleeping. Listen carefully to their quiet breathing. It's the sounds of this innocent world that called "Vita lakamaya"....
"Double Eyes"
Mizuki Kiyama directed the five-minute short in 2015. Asia Society describes the film:
We are made up of two symmetrical parts: the left and the right. Not only our bodies but also our mentality, consists of twin elements, such as instinct and intellect, or the objective and subjective. These dual qualities make up a whole person. This animation humorously explores this fact, which we often take for granted.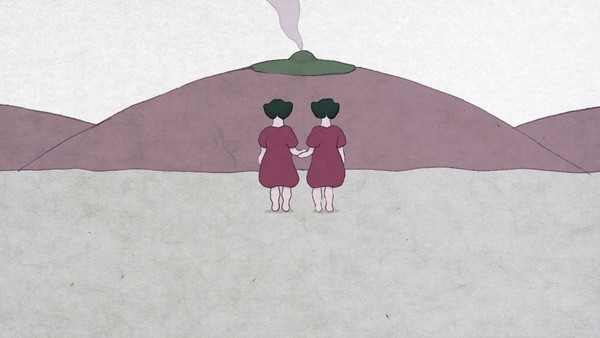 "Little Shimajiro"
Isamu Hirabashi directed the nine-minute short in 2015. Shimajiro is the tiger cub character from Benesse's Kodomo Challenge educational line for preschoolers and its television anime spinoffs.
"1001001."
Yū Satō's four-minute film debuted in 2016. Asia Society describes the film:
A robot wakes up among heaps of trash in the deep recesses of a dark alley. With no recollection of what happened before or after he was thrown away, will this robot try to return home to the family he worked for?
"Nothing You Need to See" ("Nanimo-minakuteii")
Keigo Ito's four-minute film screened at Annecy last year in the Graduation Films category, and the film was a jury selection at the 19th Japan Media Arts Festival Awards after it debuted in 2015.
"In the clock" ("Tokei no Hanashi")
Shizuka Abe directed the nine-minute short film in 2015. Asia Society describes the film:
He is a clock work toy. His work is performing in front of the clock every 3 hours. One day, he meets the doll who is on the music box.
---