News

Ikemen Sengoku Anime's Promo Video Outlines Story

posted on by Crystalyn Hodgkins
5-minute anime shorts based on mobile game will premiere on July 12
---
The official website for Ikemen Sengoku: Toki o Kakeru ga Koi wa Hajimaranai (Ikemen Sengoku: Love Won't Start By Crossing Through Time), the television anime adaptation of Cybird's Ikemen Sengoku: Romances Across Time (Ikemen Sengoku: Toki o Kakeru Koi) romance mobile app, began streaming a promotional video for the series on Friday.
The anime will premiere on Tokyo MX on July 12 at 10:10 p.m. Each episode will be five minutes long. The comedy anime will tell the slapstick everyday life stories of the military commanders of the Warring States period. The anime will use 3D models of the characters in the game. The official website describes the story:
My name is Sasuke. I am a graduate student, but one day I am transported through time into the Warring States period. However, this time period is completely different from what I learned in textbooks...

The voice actors from the game are reprising their roles for the anime, including: (Note: Historical character names are written family name first.)
Tomokazu Sugita as Oda Nobunaga
Kazuki Katou as Date Masamune
Kensho Ono as Sanada Yukimura (replacing Yoshimasa Hosoya)
Kousuke Toriumi as Toyotomi Hideyoshi
Toshiki Masuda as Tokugawa Ieyasu
Shunsuke Takeuchi as Akechi Mitsuhide
Yoshitaka Yamaya as Ishida Mitsunari
Yuichiro Umehara as Takeda Shingen
Hiroaki Miura as Uesugi Kenshin
Kenji Akabane as Sarutobi Sasuke
Tarusuke Shingaki as Kennyo
Katsuyuki Konishi will also voice the new character Mōri Motonari.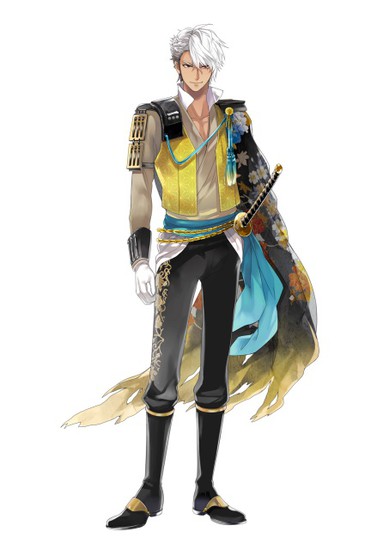 Cybird is credited with the original work, and Shiro Yamada is credited with the original illustrations. Shigeyuki Watanabe (Prologue of Blame! director, CGI director for Fireball, Hi-sCool! Seha Girls) from TMS Jinni's is directing the anime at both TMS Jinni's and TMS Entertainment. Masayuki Kibe (Hi-sCool! Seha Girls) is handling the series composition, Junko Yamanaka (Ninja Girl & Samurai Master, ReLIFE) is the character designer, and Keisuke Itō from noisycroak is the composer. Takanori Yoshimura is the sound director at Object. The six-member male idol group Star Concerto is performing the anime's theme song "Yes/No."

Cybird is releasing the original app on iOS and Android devices this summer, and it describes the game:
The plot of "Ikemen Sengoku: Romances Across Time" centers around you, an aspiring fashion designer who gets whisked away to "Sengoku" (warring states) era Japan. After earning the favor of warlord Oda Nobunaga after saving him from near death, you must survive 3 months surrounded by Japan's most famous and handsome Sengoku warlords before your next chance to make it back home.
CYBIRD launched the Ikemen Sengoku: Toki o Kakeru Koi iOS and Android game in June 2015. The game is free-to-play, and is part of the "Ikemen Series" of historical romance games for female players. The games take place in different eras of history. The game is inspiring a port for the PS Vita titled Ikemen Sengoku: Toki o Kakeru Koi ~Arata Naru Deai~ (New Meeting) by Idea Factory's Otomate brand. The game was originally slated for fall 2016, but is now scheduled for a release this year.
The franchise also has a manga adaptation that launched in Akita Shoten's Monthly Princess magazine on January 6. Mika Kajiyama (Neo Angelique, Ayahatori Shōkanjō, Ore to Atashi no Kareshi-sama) is drawing the manga. A stage play adaptation additionally ran in April.
Source: Dengeki Online (Garusuta Online)
---