×
remind me tomorrow
remind me next week
never remind me
Subscribe to the ANN Newsletter • Wake up every Sunday to a curated list of ANN's most interesting posts of the week.
read more
News

Ikemen Sengoku Game Also Gets Stage Play

posted on by Jennifer Sherman
Manga began last month; anime slated for this year
---
An official website for a stage play adaptation of CYBIRD's Ikemen Sengoku game opened on January 30, and the website revealed the main cast on Thursday.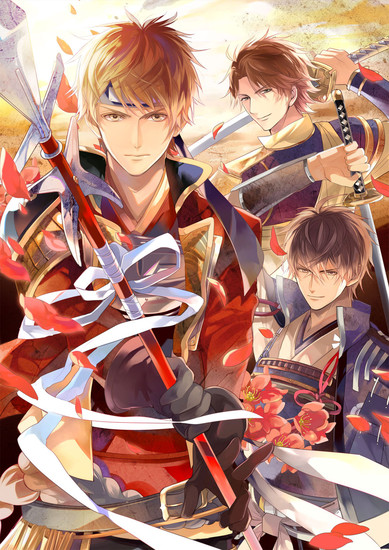 The cast includes:
Shōta Onuma as Sanada Yukimura
Ken Ogasawara as Oda Nobunaga
Bishin Kawasumi as Date Masamune
Tatsumaru Tachibana as Uesugi Kenshin
Kōichi Takamatsu as Kōsa
Yūsuke Seto as Akechi Mitsuhide
Naotaka Amano as Ishida Mitsunari
Mahiro Sugiyama as Tokugawa Ieyasu
Kandai Ueda as Takeda Shingen
Riku Midorikawa as Toyotomi Hideyoshi
Jōji Saotome as Sarutobi Sasuke
Kaoru Hayano as Mizusaki Mai
In addition, Ayumu Kuroda, Shōgo Wada, Nachi Tanaka, Yūichi Zaizen, Shintarō Fukuchi, Hiroki Kudō, Ryō Serizawa, and Yūsuke Okamoto will play sword dancers.
Sugiyama, Kuroda, Wada, Tanaka, and Zaizen are members of Junon Superboy's Junon Superboy Anothers unit. The entertainment magazine Junon holds annual Junon Superboy Contest talent auditions. The competition determined the members of the Junon Superboy Anothers unit, which is composed of one team for member 18 years old or older and one team for members younger than 18.
The play will run from April 19-23 at Hakuhinkan Theater in Tokyo. Yōsuke Miyagi is directing and writing the script.
Mobile game developer CYBIRD announced during a stage event at the Animate Girls Festival 2016 event in November that the game is receiving an anime adaptation with all 11 main characters this year. Mika Kajiyama (Neo Angelique, Ayahatori Shōkanjō, Ore to Atashi no Kareshi-sama) launched a manga adaptation in Akita Shoten's Monthly Princess magazine on January 6.
CYBIRD launched the Ikemen Sengoku: Toki o Kakeru Koi (Hot Guy Sengoku: Love That Jumps Through Time) iOS and Android game in June 2015. The game is free-to-play, and is part of the "Ikemen Series" of historical romance games for female players. The games take place in different eras of history. The game is inspiring a port for the PS Vita titled Ikemen Sengoku: Toki o Kakeru Koi ~Arata Naru Deai~ (New Meeting) by Idea Factory's Otomate brand. The game was originally slated for fall 2016, but is now scheduled for a 2017 release. Idea Factory began streaming a promotional video for the PS Vita version in August.
In the original mobile game's story, the protagonist is sent back in time to the Sengoku (Warring States) period, where she meets notable historical figures such as Oda Nobunaga (voiced by Tomokazu Sugita), Date Masamune (Kazuki Katou), and Sanada Yukimura (Yoshimasa Hosoya).
CYBIRD has released Midnight Cinderella: Ikémen Royal Romances and Destined to Love: Ikémen Samurai Romances in English.
Source: Animate Times
---