News

2nd Haikara-san ga Tōru Film Changes Director

posted on by Rafael Antonio Pineda
---
The staff for the anime film project of Waki Yamato's Haikara-san ga Tooru manga revealed on Friday that Toshiaki Kidokoro (March comes in like a lion episode director, Fireworks, Should We See it from the Side or the Bottom? line director) is replacing the previously announced Mitsuko Kase (Ristorante Paradiso, Young Black Jack) as the director of the second film. The second film, Gekijōban Haikara-san ga Tōru Kōhen - Hana no Tōkyō Dai Roman (Haikara-san ga Tōru the Movie II: The Grand Tokyo Romance), will open next spring.
The staff also revealed an image from the second film, showing Benio in a wedding dress.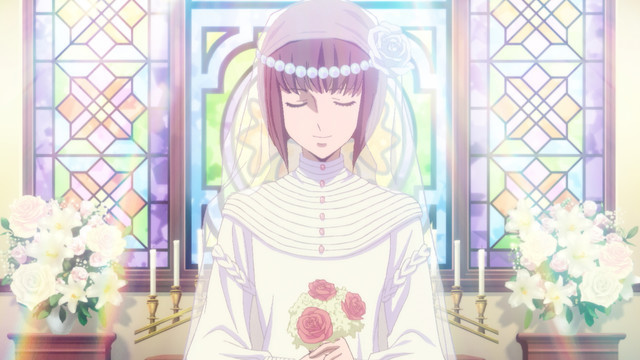 Kazuhiro Furuhashi (Rurouni Kenshin, Hunter X Hunter) directed Gekijōban Haikara-san ga Tōru Zenpen - Benio, Hana no 17-sai, the first film in the series, which opened in Japan on November 11.
Terumi Nishii (Penguindrum, JoJo's Bizarre Adventure: Diamond Is Unbreakable) is designing the characters, and Kentaro Akiyama (ReLIFE, Magic-kyun! Renaissance, Selector Infected Wixoss) is in charge of both background design and art direction. Kunio Tsujita (INTERSTELLA 5555: The 5tory of the 5ecret 5tar 5ystem, Penguindrum) is the color designer. Takeo Ogiwara (Chain Chronicle: The Light of Haecceitas, Yurikuma Arashi) is the director of photography at Graphinica. Kazuhiro Wakabayashi (Eureka Seven, Kuromukuro) is the sound director, and Michiru Oshima (Sound of the Sky, Little Witch Academia) is composing the music. Nippon Animation is in charge of animation production.
Saori Hayami, who plays protagonist Benio Hanamura, also performed the first film's theme song "Yume no Hate made" (Until the End of the Dream). Mariya Takeuchi (Agatha Christie no Meitantei Poirot to Marple, Toki no Tabibito -Time Stranger) composed and wrote the lyrics for the theme song.
The story is set in Tokyo in the Taishō era (1912-1926). The story follows Benio "Haikara-san" Hanamura, who lost her mother when she was very young and has been raised by her father, a high-ranking official in the Japanese army. As a result, she has grown into a tomboy — contrary to traditional Japanese notions of femininity, she studies kendo, drinks sake, dresses in often outlandish-looking Western fashions instead of the traditional kimono, and is not as interested in housework as she is in literature. She also rejects the idea of arranged marriages and believes in a woman's right to a career and to marry for love.
Haikara-san's best friends are the beautiful Tamaki, who is much more feminine than Haikara-san but equally interested in women's rights, and Ranmaru, a young man who was raised to play female roles in the kabuki theater and as a result has acquired very effeminate mannerisms. Haikara-san's betrothed is Shinobu Ijūin, a second lieutenant in the army.
The all-female Takarazuka Revue theater troupe's Flower Troupe performed a musical adaptation of the manga in October.
Update: Film's title translation corrected. Thanks, SHD
Source: Comic Natalie
---
this article has been modified since it was originally posted; see change history