News

Leeds Screening Penguin Highway, Live-Action Inuyashiki (Updated)

posted on by Andrew Osmond
Also screenings of
Mirai
,
Violence Voyager
---
A previous version of this article said wrongly that Penguin Highway would be shown at 11.30 p.m.; in fact it will be shown at 11.30 a.m. Apologies for the mistake. More details about the Mirai screenings have been added.
There will be a screening of the film Penguin Highway as part of the Leeds International Film Festival on November 4 at 11.30 a.m. The screening is at Victoria Hall at Leeds Town Hall..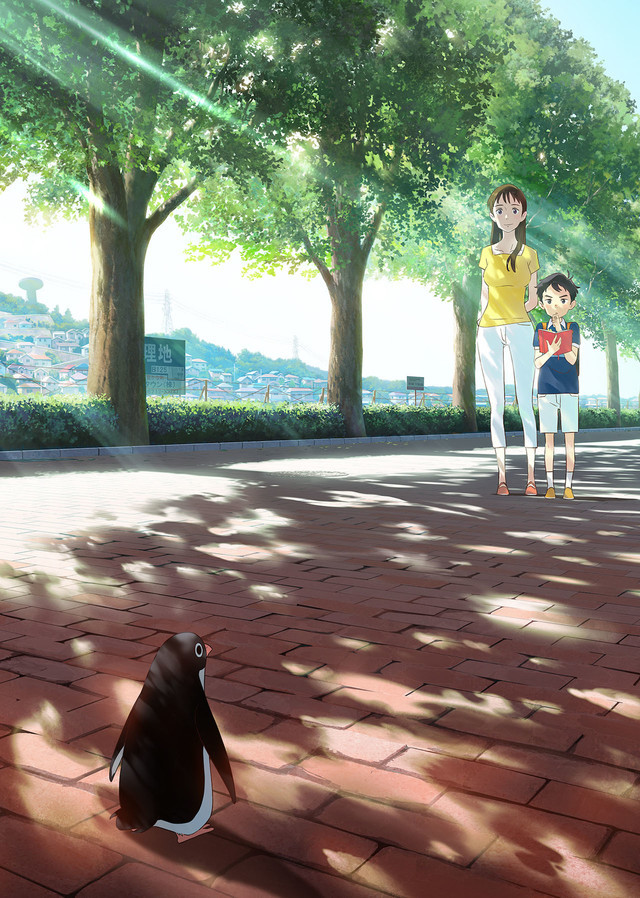 Anime Limited describes the film:
Aoyama is a serious 10 year-old boy who records all of his day-to-day experiences in his notebook. One day in May, penguins inexplicably appear in his home town, despite being located a long way from the sea. When Aoyama sees "Big Sis" – a young woman who works at a dentist's office – drop a soft drink can which inexplicably turns into a penguin, he decides to investigate and resolve the mystery behind these strange events.

Together with his classmates, Aoyama happens upon a strange phenomena which is surely the key to these goings-on. Will their investigation bear fruit, and just how is "Big Sis" linked to these occurrences?
Hiroyasu Ishida, who directed Colorido's "Hinata no Aoshigure" and "Fumiko's Confession" shorts, is directing the film as his first feature-length directorial work. Typhoon Noruda director Yōjirō Arai is designing the characters for the film. Makoto Ueda, who wrote and supervised the scripts for anime adaptations of Morimi's The Tatami Galaxy and Night is Short, Walk On Girl novels, returns to pen the script for this film. Umitarō Abe is composing the music.

The festival will also screen the live-action film adaptation of Hiroya Oku's Inuyashiki manga, on November 4 at 5 p.m. The screening is at Victoria Hall at Leeds Town Hall.
Shinsuke Satō, who also directed the live-action film adaptation of Oku's Gantz manga, as well as its Gantz II: Perfect Answer sequel film, is directing the film. Crunchyroll described the story.
Ichiro Inuyashiki is down on his luck. While only 58 years old, his geriatric looks often have him written off as a pathetic old man by the world around him and he's constantly ignored and disrespected by his family despite all that he's done to support them. On top of everything else, his doctor has revealed that he has cancer and it appears that he has little time left in this world. But just when it seems things couldn't get any worse, a blinding light in the night sky strikes the earth where Ichiro stands. He later wakes up to find himself unscathed, but he soon starts to notice that there's something…different about himself.

There will also be two screenings of Violence Voyager, on November 8 at 6.30 p.m. and November 11 at 1.45 p.m. Both screenings are at Everyman Leeds. The 18-rated film uses painted cut-out characters and is described on the festival website:
'Despite warnings from hermit Old Man Lucky –Monkey, Bobby, his friend Akkun and Derrick the cat explore the local mountains, where they discover a mysterious alien invasion-themed amusement park. Little do they or we know the truly deranged horror and grotesquery awaiting these innocents. Filmed live in 'Geki-mation' - painstakingly hand-painted cardboard cutouts with in-camera effects - this colourful fairytale aesthetic erupts in a torrent of grotesque mutilation, child-robot hybrids, bodily fluids and forest animals.'

Mamoru Hosoda's new film Mirai will have two screenings at November 3 at 12 noon at HYDE Park Picture House (English-dubbed) and November 4 at 2.30 p.m. at Victoria Hall at Leeds Town Hall (subtitled).
Details of ticket offers for the festival, including the opportunity for attendees under 25 to buy ten tickets for £30, is available here.
Thanks to Lapin noir for corrections and extra information.
---