News

Mayonaka no Occult Kōmuin Anime's 2nd Promo Video Reveals More Cast

posted on by Jennifer Sherman
---
The staff for the television anime adaptation of Yōko Tamotsu's Mayonaka no Occult Kōmuin (Midnight Occult Civil Servants) manga began streaming the second promotional video for the series on Thursday. The video previews additional characters and cast members.
The new cast members are:
Tomoaki Maeno as Kyōichi Sakaki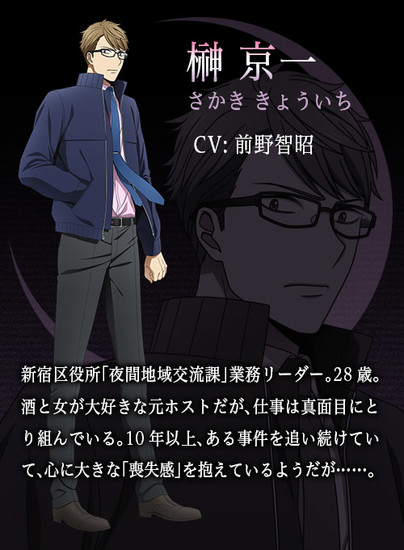 Miyu Irino as Theo Himezuka


Koji Yusa as Reiji Senda


Takahiro Sakurai as Satoru Kanoichi


Shun'ichi Toki as Huehuecóyotl


In addition, Kazutomi Yamamoto will play Yuki.
Jun Fukuyama stars in the anime as protagonist Arata Miyako.

The television anime will premiere in April 2019.

Tetsuya Watanabe (Rumbling Hearts, Strain: Strategic Armored Infantry, Schwarzes Marken) is directing the anime at LIDEN FILMS. Tatsuto Higuchi (CROSS ANGE Rondo of Angel and Dragon, Schwarzes Marken, My-Otome) is in charge of series composition. Eriko Itō (Hamatora, Danchigai, Love and Lies) is designing the characters.
Additional staff members include:
Assistant Director: Yasuyuki Ōishi
Occult Research: Kiyomune Miwa
Another Design: Eriko Itō, Kanta Suzuki
Prop Design: Eriko Itō, Natsuki Egami
Art Setting: Tomoyuki Aoki, Yukie Inose, Hiroshi Izumi
Art Director: Nobuaki Mihara
Color Design: Emiko Onodera
Director of Photography: Hitoshi Tamura
Editing: Masato Yoshitake
Sound Director: Yota Tsuruoka
Sound Effects: Naoto Yamatani

The modern fantasy manga centers on Arata Miyako, a new government worker assigned to the Shinjuku Ward Office's "Nighttime Regional Relations" department. Each of Tokyo's 23 wards has one such department, which were established to solve paranormal and occult-related events. Arata can understand non-human speech that no one else understands, and he encounters a yōkai (supernatural entity) at Shinjuku Gyoen park that calls him Abe no Seimei — the name of a historical Japanese occultist and diviner.
Tamotsu launched the manga in Kadokawa's Monthly Asuka magazine in May 2015, and it also runs on Kadokawa's Comic Newtype website. Kadokawa published the manga's eighth compiled book volume (seen right) on June 23. The manga also inspired a novelization by Masumi Suzuki that the Kadokawa Horror Bunko label published on July 25.
Sources: Mayonaka no Occult Kōmuin anime's official website, MoCa News
---