News

Kanashiki Debu Neko-chan Anime Reveals Cast, More Staff, December 6 Debut

posted on by Rafael Antonio Pineda
---
The official website for the television anime of Ehime prefecture's "local tale" Kanashiki Debu Neko-chan (The Sad and Fat Cat) revealed the anime's cast, staff, and December 6 premiere date on Friday.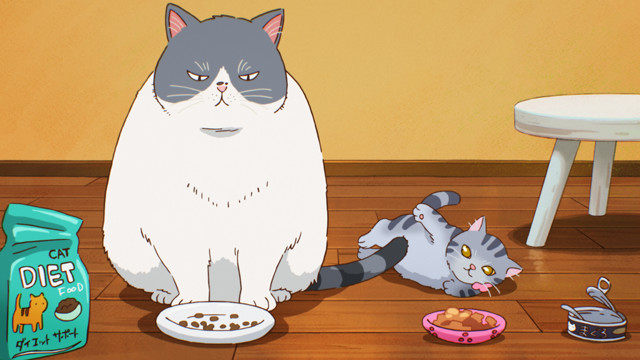 Kenichi Takitoh plays the titular "sad and fat cat" Maru (left in image above), while Ehime native Nana Mizuki plays the black cat Madonna (right).
As previously announced Michiya Katō (Okko's Inn compositing director of photography, Odenkun, Nandaka Velonica) is directing the anime at Cyclone Graphics inc., and is also now credited for the scripts. Shinji Takeuchi (Gintama, Fairy Tail 2018 series) is designing the characters. Youichi Watanabe is the art director. Guitarist and Tokyo Jihen and PETROLZ band member Ryōsuke "Ukigumo" Nagaoka is composing the music.
The anime has 10 three-minute episodes. The first five episodes will premiere on NHK in Ehime from December 6 to 10 at 8:42 p.m., and the next five episodes will premiere on December 13-17. The anime will then premiere in the rest of Japan in batches, with a first batch of episodes on December 19 at 11:55 p.m., and then another batch on December 26. Another national airing will be weekly from January 10 to February 28 at 00:00 (effectively, midnight the next day).
The anime celebrates the 80th anniversary of the NHK Matsuyama Broadcasting Station .
The anime's story centers on a cat named Maru, adopted by a girl named Anna from a shelter in Matsuyama city. Loved and well fed by the family, Maru gets rounder and fatter every day, spending most of his day sitting by the window and looking at the garden outside. When the family gets a new cat named Cerisier and begins doting on it, Maru gets jealous. In a fight with Cerisier, Maru is hurt by the family's words to him, and follows the advice of another cat to leave and see the world.
The "local tale" began as an illustrated story written by Kazumasa Hayami and illustrations by Karin Kanō that was seriailized in the Ehime Shimbun newspaper from April 2018 to November 2018. The character had an art book in 2019, and a new story serialization in the newspaper that ran from September 2019 to June 2020. Shueisha published the collected story in one volume on March 19.
Sources: NHK, The Mainichi Shimbun's Mantan Web
---