MangaGamer Announces Release of Deardrops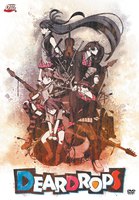 March 2, 2012
--We at MangaGamer are proud to announce the release of DEARDROPS!
"Music you were destined to encounter, with friends you were destined to meet—"
A violinist, entrusted with great hopes for his future, but sealed off from that path.
A lone diva, more devoted to singing than anyone else.
A guitarist, lacking the courage to take the first step towards her ideals.
A bassist, unable to face his past mistakes, but who can't leave music either.
A drummer, finding it impossible to enjoy performing with others.
Each led by rock 'n roll to meet, confront each other, and form new bonds in this tale about the prime of their lives.
DEARDROPS
"Music you were destined to encounter, with friends you were destined to meet—"
Five different people―each lost at different points in their life's journey, each heading down different paths, each with their own goals and ideals―find themselves unexpectedly brought together by rock 'n roll and the world of music. Whether their time together is fleeting or lasting, the crossing of such varied lives is sure to be an unforgettable one that forever changes them.
A tale of youth, fateful encounters, and the prime of life awaits the moment all is set in motion. With the spark of a cast-off cigarette and the opening phrase of a dead rockstar's legacy, the first chapter of their new lives will ring across the crowded hall.
www.youtube.com/watch?v=gCHTWFdFYCA
Title: DEARDROPS
Manufacturer: OVERDRIVE
Genre: Adventure, Slice of Life
Price: €34.95
OS: Windows XP(32bit), Windows Vista(32bit), Windows 7
Text Language: English
Age Rating: 18+ (Adults Only)
ABOUT MANGAGAMER.COM
MangaGamer.com is the world's first legal download site for English translated Visual Novels. Since its launch in July 2008, it has offered services where fans can download and enjoy popular Visual Novels such as CIRCUS's Da Capo and OVERDRIVE's Kira Kira right from their home. Don't forget to visit us on
Facebook
and
Twitter
!
---