Sound Decision
L'Arc~en~Ciel, Namie Amuro
by Jonathan Mays,

L'Arc~en~Ciel: AWAKE
—Tofu Records

Now comes the hard part. L'Arc~en~Ciel has been through the monster US debut, the sold-out concerts, the hit anime tie-ins. Now they have to prove they can hold their own against whoever else Japan throws our way.

I think they can do it, especially if they keep making albums like AWAKE. With four top-selling singles, there's plenty of loud, addictive L'Arc rock to go around, but the real key is a track like Ophelia. Who knew Hyde and company could do jazz, and with an electric guitar? Something like that shows a lot of musical maturity. Granted, they debuted in 1993, so they'd have to be pretty mature to even hang together this long, but still, it's an important sign to those of us who haven't been following L'Arc for the last twelve years.

The other eye-opener is AS ONE, which rocks about as hard as any heavy metal band I've heard in a while. Hyde's vocals aren't as convincing as they are in something like Poem, where he gets to hang on one note and let everything evolve around him, but he gets the job done, which says a lot about his talent range.

There isn't really a home run song like Ready Steady Go—New World is close, especially with its stirring chorus, but the verses are simply boring. All in all, though, AWAKE is a promising sign that L'Arc~en~Ciel still has some business on this side of the Pacific.

Namie Amuro: Queen of Hip-Pop
—Avex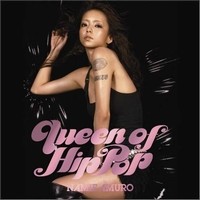 Six years after she started working with superproducer Dallas Austin, it's official: Namie Amuro has declared herself the Queen of Hip-Pop.

You'll have to forgive longtime Namie Amuro fans if they bristle a bit when they hear things like that. Once upon a time, Amuro was a classic pop diva, first as a member of the Super Monkeys group, and then on her own beginning with Body Feels Exit in 1995.

Now, thanks to the producer of groups like TLC and Anastacia, Amuro's back on top with her best selling album in half a decade. Along the way, she's been through several levels of personal hell, which probably has a lot to do with her sudden detour to R&B styles.

As STYLE was her ultimate R&B album, this one nails down her hip-hop side. Songs like Want Me, Want Me are tough to distinguish from her American counterparts, which I know will annoy a lot of folks, but that's just too bad.

Amuro knows how to work a rhythm, especially in WoWa and Free. Girl Talk is much softer, like Crystal Kay, and I Love You is a welcome glimpse back to the light pop of her early career. And just in case all this hip-hop has you thinking Amuro can't hold a note for more than two seconds, All For You is a splendid ballad that will set you straight.

The interesting thing about Queen of Hip-Pop is how deeply Amuro has bought into the hip-hop/R&B scene. I guess that's the difference between people who "reinvent" themselves and fade away, and those who see it as a chance to rebuild a career from scratch.

One more thing: it's totally unintentional, but the backup singer in My Darling does the best Chappelle-as-Lil'-Jon impression ever. WHAT?...OKAY!

---
discuss this in the forum (17 posts)
|