News

Amazing Twins Anime's 2nd Volume Delayed 3 Months

posted on

2014-02-06

23:32 EST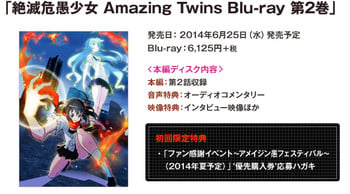 The second volume of the Amazing Twins original video anime series by director Junichi Sato (Sailor Moon, Kaleido Star, Princess Tutu, Pretear, Sgt. Frog, Aria, Umi Monogatari ~Anata ga Ite Kureta Koto~, Tamayura) has been delayed from March 26 to June 25. The official website also announced that the standard version will drop in price from 6,300 yen (about US$63) to 6,135 yen (US$61).
The first volume will still ship on February 26, and the first episode will run on the AT-X television channel on February 26. Early footage from the second episode will run on the next day, followed by a special in March and the full second episode in April or later.
---
Around The Web
Hey, did you know that we're probably in another anime market bubble right now? Plus, the likelihood of Evangelion TV Blu-rays in the US, how Blu-ray rights are different than DVD, and the difference between licensing and distribution.
― Hey, I have a ton of questions in the Answerman inbox! Thanks to everyone that sent one in. Predictably, many people are talking about the ADV Films website, which ...
Our guest this week is Jason DeMarco, vice president and creative director on-air for Adult Swim and the man behind Toonami. We discuss the history of the block, why some decisions get made, the new schedule and more.
― ANNCast Episode 218: Right On DeMarco Get the Flash Player to see this player. Our guest this week is Jason DeMarco, vice president and creative director on-air for Adult Swim, which...
Jason is tickled pink by Aya Kanno's gleeful, playful comedy about taking on gender stereotypes.
― Otomen "A business like this is so great. You can talk to other men about shojo manga like it's the most natural thing…"\ Handsome, strong, a kendo and judo champion: Asuka Masamune seems like the ideal man. Girls swoon over him and offer him presents and chocolates, but he turns them away; he's polite...
Win a Tower of Awesome A Certain Magical Index Goods
― FUNimation's A Certain Magical Index – The Movie – The Miracle of Endymion is available now on Blu-ray/DVD Combo Pack (release date 2/17). This is the first and only feature film set in the shared world of A Certain Magical Index and A Certain Scientific Railgun. Magic and science collide as unlucky Kamijo, nun-intraining Index, and a few of the...
This week: a chat with the producer of Toukiden Kiwami! Plus tri-Ace, Disgaea, Rodea, Street Fighter, and something that could happen only in the early 1990s.
― I don't think I've talked about The Power Team here, even though it's the sort of odd video-game cultural relic I always enjoy discussing. Well, I'll fix that! I'm talking about The Power Team, a cartoon by-product of the rampant Nintendo ob...
The final volume of Happy Marriage is simultaneously the happiest and the smuttiest. Rejoice!
― It is always a little disconcerting when you realize that how you see the main characters of a series and how the author sees them don't quite line up. In the case of Chiwa and Hokuto of Maki Enjoji's Happy Marriage, that turns out to be the case, at least for me. Enjoji states several times in the book ho...
Justin recounts what should have been the highlight of his career -- hosting a world premiere with Satoshi Kon that went ridiculously sour.
― Welcome to "Tales of the Industry," a new column where we will share stories from real working professionals in the anime business. These stories will be anonymous, and told in the first person. Names will be changed to protect people's jobs. They might've tak...
Theron takes a journey through one of Japan's most acclaimed animated anthology films.
― Short Peace is also the name of a collection of manga short stories by Akira creator/director Katsuhiro Otomo, which was published in the 1970s. Here, like with the collection Memories, his name is the binding element to another collection of shorts, in this case all animated by Sunrise; he is the director of one...
Steve Blum, one of the most beloved voice actors around and the man behind Spike Spiegel, Orochimaru and more, sat down with us last month to answer a few questions.
― We had the pleasure and privilege of interviewing Steve Blum at Otakon Vegas. Blum has voiced some of anime's most notable characters, like Spike Spiegel from Cowboy Bebop, Makoto Shishio from Rurouni Kenshin, Orochimaru from Naruto, a...