×
remind me tomorrow
remind me next week
never remind me
Subscribe to the ANN Newsletter • Wake up every Sunday to a curated list of ANN's most interesting posts of the week.
read more
Anime Spotlight: KIDS ON THE SLOPE
by Justin Sevakis,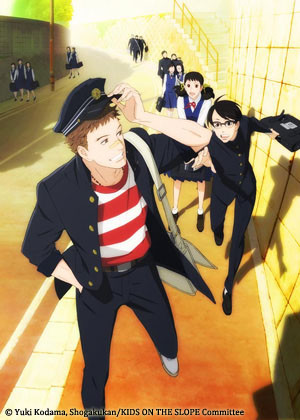 April 2012 (Japanese Premiere)


Key Staff
Director - Shinichiro Watanabe

Music - Yoko Kanno

Character Design - Nobuteru Yuki

Animation Production
Original Work: Kids on the Slope (Sakamichi no Apollon), by Yuki Kodama (Shogakukan, serialized in Monthly Flowers)
Winner of the 57th Shogakukan Manga Award (general audience division)
Introduction
A new standard in coming-of-age anime performed by noitaminA!


Creator Comments
"When it comes to adapting this manga to anime, I can say with no reservations that the series has been blessed with a brilliant combination of staff members that couldn't be any better. I'm so thrilled about this that I feel a tightening in my chest. I can't wait to see the collaboration of imagery and music that's in store for us."
—Original Work: Yuki Kodama
"Actually, this is my first time directing a series based on an original work. After reading the manga, I thought it was a series that I should do. I like to think that I'm bringing out the delicious flavor of the original work while doing a "session" with Ms. Kodama."
—Director: Shinichiro Watanabe
"I originally read Ms. Kodama's series out of pleasure, getting to be a part of the anime version was a surprise. I'm worried about destroying the image fans have of the characters, but I'll do my best!"
—Character Designer: Nobuteru Yuki
"Coming of age and jazz. This is exactly the kind of series I've been waiting for. I entreat everyone to listen to the heartbeat of life of the brilliant young jazz musicians who performed the sounds that could be heard from the original work."
—Music: Yoko Kanno
Story
The beginning of summer, 1966.
Because of his father's job situation, freshman high school student Kaoru Nishimi moves by himself from Yokosuka to Kyushu to live with relatives. Until then, Kaoru was an honor roll student who tended to keep to himself, but meeting notorious bad boy Sentaro Kawabuchi starts to change him. Through his devil-may-care classmate, Kaoru learns the attractions of jazz and finds the first person he can call a "friend". He also discovers how much fun it is to play music with a pal.
Other characters include Sentaro's kind childhood chum, Ritsuko, who is the daughter of a record shop owner; the mysterious upperclassman, Yurika; and Brother Jun, the much-admired leader among their peers. Set against the backdrop of a seaside town with a scent of American culture, this series is a drama about young people coming into their own, crossing each other's paths, and finding friendship, love, and music!
Characters
Kaoru Nishimi
VA: Ryouhei Kimura

Kaoru is a brainy young man who moves during the summer of his first year in high school, from Yokosuka to his uncle's house in Kyushu. In fact, Kaoru has been moving from place to place ever since he was a little kid, a lifestyle that has made him introverted. But after Kaoru encounters Sentaro, he starts to change, all while learning the joys of jazz. Kaoru has been familiar with classical music for many years and is quite the pianist, so naturally he's on piano.

Sentaro is a wild 1st-year high school student who meets incoming student Kaoru at Higashi High School. Sentaro is mistakenly thought of as a thug by his peers, who fear him. Though tall and gifted with prodigious physical strength, Sentaro is also straightforward and bighearted. He's the exact opposite of Kaoru, yet somehow they hit it off when Sentaro starts to share his boundless love for jazz. The drums are Sentaro's instrument of choice.

Ritsuko is a classmate of Kaoru and Sentaro and an old friend of the latter. This kind, always cheerful and charmingly-freckled high school freshman is also the poster girl for Welcome Records, her family's record shop. The basement of the shop has a practice studio that serves as a hang-out for Sentaro, Kaoru, her father, and assorted jazz cronies.

Yurika is a fellow freshman at Higashi High. Though the daughter of a well-to-do family, Yurika has a spunky personality and is brimming with curiosity. She becomes acquainted with Kaoru and the gang after Sentaro helps her out by chance. And then, through them, she meets college student Junichi…

Sentaro idolizes Junichi, whom he affectionately calls "Brother Jun". In fact, the friendship between Junichi, Sentaro, and Ritsuko goes way back to when they were kids. "Brother Jun" goes to college in Tokyo now, but whenever he comes home, he always stops in at Welcome Records and jams on the trumpet, playing jazz with Sentaro and whoever else is around.
Cast
Kaoru Nishimi

Ryouhei Kimura

Sentaro Kawabuchi

Yoshimasa Hosoya

Ritsuko Mukae

Yuuka Nanri

Yurika Fukahori

Aya Endo

Junichi Katsuragi

Junichi Suwabe
Staff
Original Work

Kids on the Slope (Sakamichi no Apollon)
by Yuki Kodama
(Shogakukan, serialized in Monthly Flowers)

Director

Shinichiro Watanabe

Script

Ayako Katō
Yuko Kakihara

Character Design

Nobuteru Yuki

Director of Animation

Music

Yoko Kanno

Animation Production

MAPPA/Tezuka Productions




© Yuki Kodama, Shogakukan/KIDS ON THE SLOPE Committee
---
discuss this in the forum (283 posts)
|
back to Anime Spotlight Spring 2012 - The List
Anime Spotlight homepage / archives