Anime Spotlight - Sunday Without God
by Justin Sevakis,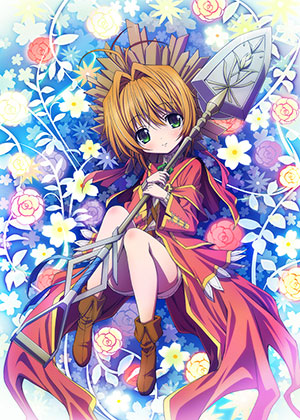 July, 2013 (Japanese Premiere)


Key Staff
Director: Yuji Kumasawa

Series Composition: Tomoko Konparu

Music: Hiromi Mizutani

Animation Production








Story
God began creating the world on Monday, and on Sunday he abandoned it.
15 years ago, when God abandoned the world, people ceased to be born and to die.
Ai is a 12 year old girl who inherited her departed mother's job of "grave keeper," whose work is to grant peace to the dead who cannot die. She lived a quiet life with her kind adoptive parents and the other villagers, but one day, a young boy calling himself "Hampnie Hambart", a man-eating toy, appeared in the village with a gun in his hands, forcing Ai to witness how cruel reality can be…
Characters
A grave keeper who helps the dead find peace, and a 12 year old little girl. Her mother was a grave keeper, and her father was human, making her half-grave keeper. She's a bright and honest girl, but she can also be stubborn.

An immortal boy who hunts the dead. He can reset the wounds on his body by dying. His incredible good looks and the way he mercilessly destroys the dead earned him the name "Man-eating toy" and the dead fear him. He seems to be looking for a girl called "Alpha."

Hampnie's classmate and his former best friend. After his wife joined the dead and got destroyed by Hampnie, he lost his daughter as well. He was in the middle of pursuing Hampnie to exact his revenge when he encounters Hampnie and Ai. Normally he's a caring and softhearted person.

A grave keeper who Ai and Hampnie met. She's called "Scar" due to the scar running from her right brow to her eyelid. Before that she was also called "Murder" and "Grim Reaper". Unlike Ai, she controls herself as "a person of perfect virtue" and has no emotions.

A young boy from Ortus who meets Ai and Hampnie on their journey. He's apprenticing at the office. He's one of Princess Ulla's retainers, and serves as both her friend and teacher. He seems to know Ulla's secret, but keeps that knowledge hidden from her notice.

Princess of Ortus, the city where a million dead live. She's a dignified princess with ebony hair and pure white skin, but she also wears a leather gag and blindfold. They say she wears it to protect her noble personage from the voices and eyes of the average people, but…

A slightly delinquent boy Ai met at Gora Academy. He also possesses a unique skill, "Buzzer Beater", allowing him to hit any target he aims for.

A student at Gora Academy like Alis. She has no real form, is capable of appearing anywhere at any time, controlling people's hearts, and she's granted the wishes of many as a result. She's known as "Whisper" or "The Witch of the West".

Alpha
VA: Rina Sato

She's a woman with very strong emotions and she's a big eater. She's bright and honest, but also stubborn.

A kind married couple who took in Ai after she lost her mother, and raised her like their own child. Yoki has a different aura from the other villagers, and Anna always has a smell of strong perfume.

One of the villagers who cared for Ai. He's destroyed by Hampnie right before Ai's very eyes.
Cast
Ai

Aki Toyosaki

Hampnie Hambart

Daisuke Namikawa

Alpha

Rina Sato

Scar

Mamiko Noto

Julie Sakuma Dolievich

Keiji Fujiwara

Kiriko Zubreska

Tetsuya Kakihara

Ulla Eulius Hecmatika

Mikako Komatsu

Alis Color

Kouki Uchiyama

Dee Enjy Stratmis

Eri Kitamura

Yoki

Hirofumi Nojima

Anna

Akeno Watanabe

Yuto

Eiji Maruyama

Hikotsu

Classmates at Gora Academy

Tanya Swedgewood

Volrath Fahren

Mimiita Gedenburg
Memepo Gedenburg

Run Sagittarius
Staff
Original Creator

Kimihito Irie
(Fantasia Bunko/Kadokawa Bunko)

Original Character Design

Shino

Director

Yuji Kumasawa

Series Composition

Tomoko Konparu

Character Design

Art Director

Sound Director

Music

Hiromi Mizutani

Music Production

Animation Production

Madhouse




©KIMIHITO IRIE・SHINO/FUJIMISHOBO/KAMINAI PRODUCT COMMITTEE
---
discuss this in the forum (146 posts)
|
back to Anime Spotlight Summer 2013 - The List
Anime Spotlight homepage / archives