Anime Spotlight - Magical Warfare
by Anthony Foronda,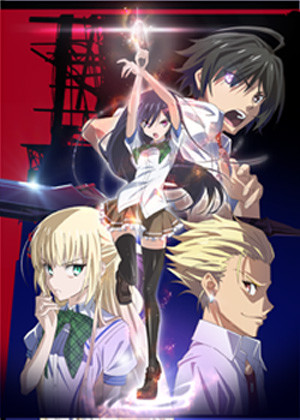 January, 2014

Key Staff
Director:Yuzo Sato

(Gokusen, Kaiji, Hunter Hunter, Naruto the Cross Roads)

Series Composition: Kazuyuki Fudeyasu

(Hajime no Ippo, Hetalia BW, Walkure Romanze)

Character Design/Animation Director: Ryoma Ebata

(Blue Exorcist, Bosou Shiki)

Animation Production

Madhouse
(Hajime no Ippo, NANA, Death Note)







Introduction
"Sorry… I've made you a mage."
Story
When Nanase Takeshi, a regular high school student, encounters Aiba Miu, a girl from a world of destruction, he winds up getting involved in a grand battle between mages. In order to save Miu, in order to save the world, and in order to change destiny. A real, modern-day magical action story begins now.
Characters
.
Nanase Takeshi
VA:Mamoru Miyano

A diligent high school student.

He holds high rank in Kendo. Due to an accident in the past, he doesn't get along well with his family.

Aiba Miu
VA:Nao Toyama

A mage.

She's trying to rescue her brother whose memories have been altered after he was captured by the enemy. Takeshi finds her when she collapsed from using too much power.

Isoshima Kurumi
VA:Asami Seto

She's Takeshi's childhood friend and attends the sames school.

Due to certain events in her past she has a strong distrust towards men, but she's able to be open with Takeshi.

Ida Kazumi
VA: Kenichi Suzumura

Takeshi's classmate.

He's rumored to be a delinquent and avoided by others, but the truth is he's a passionate man who cares greatly for his little sister.
Cast
Nanase Takeshi

Mamoru Miyano

Aiba Miu

Nao Toyama

Isoshima Kurumi

Asami Seto

Ida Kazumi

Kenichi Suzumura

Nanase Gekkou

Nobuhiko Okamoto

Aiba Tsuganashi

Toshiyuki Morikawa

Oigami Takao

Jun Fukuyama

Washizu Kippei

Kazuya Nakai
Staff
Original Creator

Hisashi Suzuki (MF Bunko J Publishing)

Director

Yuzo Sato

Series Composition

Kazuyuki Fudeyasu


Character Design & Animation Director

Ryouma Ebata

Art Director

Jirou Kouno

Color Design

Koji Hamaoka

Director of Photography

Kazuya Arahata

Editing

Mariko Tsukatsune

Music

Masato Koda

Music Production

Flying Dog

Sound Production

Dog On Beat, Dax Production

Sound Director

Teruaki Sugawara

Animation Production

Madhouse

Opening Theme: "Senkou no Prisoner"

Yuuka Nanri

Lyrics

Miho Karasawa

Composition

Haruki Mori (Elements Garden)

Arrangement

Hoshimi Iwahashi (Elements Garden)




(C) Hisashi Suzuki/PUBLISHED BY KADOKAWA CORPORATION MEDIAFACTORY/SUBARU Magic School Project
---
discuss this in the forum (114 posts)
|
this article has been modified since it was originally posted; see change history
back to Anime Spotlight Winter 2014 - The List
Anime Spotlight homepage / archives