Anime Spotlight - Sakura Tricks
by Anthony Foronda,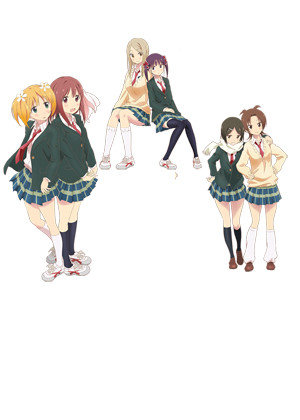 Broadcast Date: January 9, 2014 (JST)

Key Staff
Director:Ken'ichi Ishikura

(D.C.III ~Da Capo III~ (TV), episode director Paradise Kiss, ef:a tale of Melodies, Hidamari Sketch)

Music:Ryosuke Nakanishi

(Kuroko's Basketball, High School DxD, The Devil is a Part-Timer!))

Character Design:Kyuta Sakai

(Steins;Gate, When They Cry- Higurashi, Strawberry Panic!))

Sound Director:Satoki IIDA

(Angel Beats, Amagami SS, Fate/kaleid liner Prisma Illya )

Animation Production

Studio DEEN







Story
Best friends all through junior high, Haruka and Yu have just entered a high school scheduled for closure once they graduate. Haruka, who is super attached to her best friend, begins to feel pangs of jealousy when Yu starts to make new friends and comes up with a plan to insure that only she will be Yu's special friend. What follows is a funny and wistful coming-of-age story about the ultimate best friends forever!
Characters
Haruka Takayama
VA:Haruka Tomatasu

A freshman at Misato West High and Yu's best friend. She loves it when Yu relies on her and wants to be spoiled by her. She's usually demure, but she's aggressive towards Yu. Yu claims she can be a very jealous woman. Her breasts are D-cups, but Yu thinks they're Cs.

.

Yu Sonoda
VA:Yuka Iguchi

Haruka's best friend. She's bright, friendly with everyone, and loves to be spoiled. When she suggests "Let's do something we'd never do with other girls" to Haruka, the two of them kiss. She loves green-tea flavored sweets. Her older sister, Mizuki Sonoda is a senior and the student council president.

Kotone Noda
VA:Yuka Aisaka

She's mature and goes with the flow. She's good friends with Shizuku. She's also freeloading in Shizuku's house. She has great style, and her parents are actually celebrities.

Shizuku Minami
VA:Hiromi Igarashi

Kotone's best friend and a bit of a shy girl. She has trouble fitting in with her class, but thanks to Kotone she's grown more proactive about socializing with others. "She won't stop talking if cake comes up" and "She holds a one-woman fashion show at home" are also some of her stranger sides.

.

Kaede Ikeno
VA:Mai Fuchigami

Yuzu's best friend. She's a my-pace kind of girl, but she has her act together and serves as the class representative. She's also a bit of a doting older sister towards her younger brother and sister.
Cast
Haruka Takayama

Haruka Tomatsu

Yu Sonoda

Yuka Iguchi

Kotone Noda

Yuka Aisaka

Shizuku Minami

Hiromi Igarashii

Kaede Ikeno

Mai Fuchigami

Yuzu Iizuka

Megumi Toda

Mizuki Sonoda

Saki Fujita

Sumi Otokawa

Momo Asakura

Rina Sakai

Yurika Endo
Staff
Original Creator

Tachi

Director & Series Composition

Kenichi Ishikura

Character Design

Kyuta Sakai


Music

Ryosuke Nakanishi

Music Production

Pony Canyon

Animation Production

Studio DEEN




(C)Tachi・Hobunsha/Sakura Trick Production Committee
---
discuss this in the forum (114 posts)
|
this article has been modified since it was originally posted; see change history
back to Anime Spotlight Winter 2014 - The List
Anime Spotlight homepage / archives