Anime Spotlight - Inari Kon Kon
by Anthony Foronda,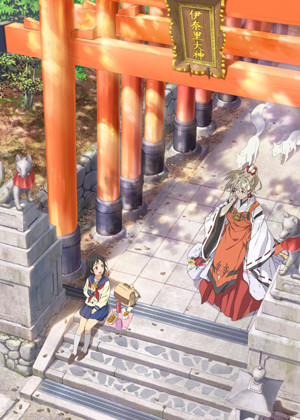 January, 2014


Key Staff
Director: Toru Takahashi

(episode director Azumanga Daioh, High School of the Dead, Monster)

Series Composition:Touko Machida

(Lucky Star, Tears To Tiara, Allison and Lillia)

Character Design:Yuka Takashina

(D.C.S.S De Capo Second Season, Ambition of Oda Nobuna, Transformers: Energon)

Opening Theme Performance:May'n

(Macross Frontier, Accel World, Phi Brain- Puzzle of God)

Closing Theme Performance: Maaya Sakamoto

(Wolf's Rain, Escaflowne: The Movie, Code Geass: Akito the Exiled OVA)

Animation Production

Production IMS







Introduction
A shapeshifting romantic comedy in elegant Kyoto. Falling in love, today and tomorrow.
Story
Fushimi Inari, a middle school girl living in Fushimi, Kyoto, is a shy girl with a crush on her classmate Tanbabashi-kun.One day, when repaying her for rescuing a fox, Uka no Mitama no Kami, the god of the shrine, makes a mistake and grants her the power to shapeshift.With the power to shapeshift, Inari begins her tale of romance filled with drama in the backdrop of Kyoto! This is a work filled with all the heartwarming moments of youth as a young girl frets over love and friendship as she matures.
Characters
Fushimi Inari
VA:Naomi Ozora

A middle school girl with a crush on Tanbabashi from the basketball club. One day she receives the power to shapeshift from Uka no Mitama no Kami. She's bit clumsy and very kind.

Uka no Mitami no Kami
VA: Houko Kuwashima

The main deity worshiped at Inari Jinja. Uka-sama for short. When Inari rescues one of her fox familiars, she grants the girl some of her divine power. Her hobby is playing Otome Games.

Tanbabashi Koji
VA:Hiroshi Okamoto

He's the ace of the basketball team, and the man Inari has a crush on. He was raised by a single mother, and had to be strong to help care for his little brother.

Fushimi Touka
VA:Youji Ueda

Inari's older brother.He has a bit of an eight-grader syndrome, and he publishes his own short stories on his blog. He's a fellow gamer with Uka-sama.

Sumizome Akemi
VA:Iori Nomizu

A girl in Inari's class. She's beautiful, smart, and strong willed. Inari yearns for her.

Sanjou Keiko
VA:Kumiko Watanabe

Inari's childhood friend. She has a manly, determined spirit, and she's the type who acts before she thinks. She's physically strong as well.

Marutamachi Chika
VA:Kaori Sadohara

One of Inari's friends. She's an otaku who wears glasses. She always hangs out with Keiko and Inari.

Otoshi no Kami
VA:Takehito Koyasu

Uka no Mitama no Kami's older brother, also known as Toshi-sama. He has the hots for his sister, and he's also a womanizer. Uka-sama makes a point to avoid him due to his unusual love for her.

Oomiyanome no Kami
VA: Shiori Mikami

She's one of the five deities in the Inari Shrine. She's a god of economic prosperity. Amidst all the unique deities, she leaves a calm, gentle impression.

Amaterasu Oomikami
VA:Masako Isobe

The goddess of the sun who rules over the heavens and the world of gods.

Shishi and Roro
VA:Satoshi Hino (Shishi) VA: Natsuki Hanae (Roro)

Uka no Mitami no Kami's fox familiars. They each have different styles of speech.

Kon
VA:Sayuri Hara

A fox cub familiar supporting Inari.She was saved by Inari when she was about to fall in the river.
Cast
Fushimi Inari

Naomi Ozora

Uka no Mitama no Kami

Houko Kuwashima

Tanbabashi Koji

Hiroshi Okamoto

Fushimi Touka

Youji Ueda

Sumizome Akemi

Iori Nomizu

Sanjo Keiko

Kumiko Watanabe

Marutamachi Chika

Kaori Sadohara

Otoshi no Kami

Takehito Koyasu

Omiyanome no Kami

Shiori Mikami

Amaterasu Oomikami

Masako Isobe

Shishi

Satoshi Hino

Roro

Natsuki Hanae

Kon

Sayuri Hara
Staff
Original Creator

Morohe Yoshida (Young Ace Magazine, Comics Ace Publishing)

Director

Toru Takahashi

Assistant Director

Hideki Okamoto


Series Composition

Touko Machida

Character Deisgn & Chief Animation Director

Yuka Takashina

Main Animator

Hong Shen

Prop Design

Matsuri Okuda/dd>

Color Design

Aya Ouchi

Art Director

Osamu Onishi

Art Setting

Ryu Sakamoto

Director of Photography

Ryosuke Tsuda

Editing

Shigeru Nishiyama

Sound Director

Kazuya Tanaka

Sound Effects

Noriko Izumo

Sound Production

Dax Production

Music

Takeshi Senoo

Music Production

Flying Dog

Animation Production

Production IMS

Production

Inari Konkon Koi Iroha Production Committee/dd>








©2014 Morohe YOSHIDA/PUBLISHED BY KADOKAWA/Inari Partners
---
discuss this in the forum (114 posts)
|
back to Anime Spotlight Winter 2014 - The List
Anime Spotlight homepage / archives