×
remind me tomorrow
remind me next week
never remind me
Subscribe to the ANN Newsletter • Wake up every Sunday to a curated list of ANN's most interesting posts of the week.
read more
Answerman
Does Being Nominated or Winning an Eisner Award Impact Manga Sales?
by Deb Aoki,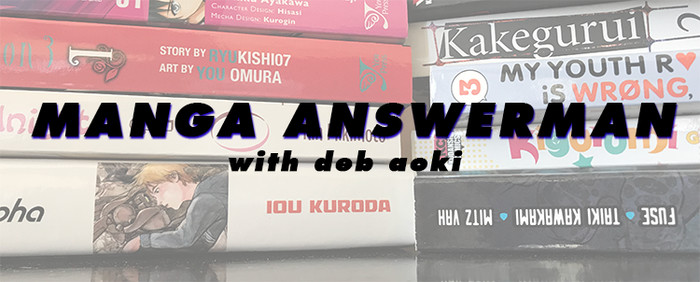 So what's the deal with manga and the Eisner Awards? Does being nominated or winning an Eisner Award impact sales of a book?
So first off, a little bit of background on the Will Eisner Comic Industry Awards. It is named for legendary comics creator Will Eisner, who is best known for coining the term "graphic novel" and for creating The Spirit, a masked detective with a fedora that inspired a movie adaptation in 2008 directed by Frank Miller (also a comics creator, who wrote and illustrated Batman:The Dark Knight Returns, and 300). The Eisner Awards are an annual affair run by Comic-Con International, the same organization that puts on two big comics conventions, San Diego Comic-Con and Wonder!-Con in Anaheim, California.
Some people compare the Eisners to the Academy Awards, in that nomination for the different award categories and voting for winners are limited only to comics professionals. And just like the Academy Awards, voting is not open to the general public. This is meant to convey a certain degree of prestige – that people who are professionals in the industry are recognizing their peers.
Make no mistake, getting nominated and winning an Eisner Award is an honor that only a relatively small percentage of comics creators receive. The ceremony is held on Friday night at San Diego Comic-Con, and it also recognizes winners for several additional honors, including the Hall of Fame, the Russ Manning Promising Newcomer Award, and the Spirit of Comics Retailer Award, which recognizes comic shops.
But let's face it – the Eisners are largely about recognizing comics made in North America.
There are often a handful of nominations for comics created in Asia and Europe – and the de facto (mostly) manga award category, "Best U.S. Edition of International Material-Asia," which was originally "Best U.S. Edition of International Material – Japan from 2007 to 2009) and changed to "…Asia" in 2010. This "Asian comics" category was created in 2007, after almost all of the winners of "Best U.S. Edition of International Material" from 1998 – 2005 were Japanese manga titles including Blade of the Immortal by Hiroaki Samura in 2000, AKIRA by Katsuhiro Otomo in 2002, and Buddha by Osamu Tezuka winning two years in a row (2004 and 2005).
What this does is it USUALLY guarantees that at least ONE manga title will walk away from the ceremony with an Eisner Award, with the exception of 2017, when NO comics originally published in Japan walked out the door with Eisners at all. That year, the "Best U.S. Edition of International Material-Asia" Award went to Sonny Liew for The Art of Charlie Chan Hock Chye, his "biography" of a fictitious elderly comics creator.
ANYWAY…
Honor or not, the question here is does an Eisner Award win or nomination actually move the needle, as far as generating a bump in actual book sales for manga?
The short answer is… no, not really. Or at least not the way you might expect given all the hoo-hah and publicity that comes with a comic, graphic novel or manga being nominated or winning a prestigious award.
I threw out the question of the Eisner Awards impact to a friend who's a publishing industry insider (who opted to remain anonymous), and got this reply:
Out of curiosity I looked back at the last three years of winners in the manga category in Bookscan. There was a small bump in the weeks after the award, but then the book returns to its normal rate of sell-through. The top bump-getter in the last five years was Charlie Chan Hock Chye by Sonny Liew with about 100-150 sales attributable to the award. The smallest bump-getter was Showa 1953-1989: A History of Japan by Shigeru Mizuki (published by Drawn & Quarterly) with just 10-15 [copies sold after winning the award in 2016].

So it's hard to evaluate the long-term impact. It certainly isn't as obvious and massive as the major book awards like the Caldecott or Pulitzer awards tend to be.
So how will this year's manga winners fare, sales-wise? Here's the 2019 manga winners' circle:
The question of the sales impact of an Eisner Award win comes when there's been some talk about the (relative) lack of manga catering to female adult readers. Unless you count Sana Takeda's wins for Monstress (Image Comics) in 2018, and Rumiko Takahashi's induction into the Eisner Hall of Fame (also in 2018), Tokyo Tarareba Girls is the first manga series by a female creator to win an Eisner Award. The rest have been mostly seinen manga fare, like manga by creators like Osamu Tezuka, Naoki Urasawa and Yoshihiro Tatsumi.
One of the biggest supporters of Tokyo Tarareba Girls has been Morgana Santili, former Manga Buyer and Manga Manager at Comicopia in Boston, Massachusetts, and blogger at The Manga Maven and The Beat. I asked for her take on the impact of an Eisner win from a comic shop retailer's point of view, and she came back with these comments:
The Eisner Awards' effect on sales is a hard question for me, since so often people [buying manga at Comicopia] didn't necessarily give their reasons for buying certain manga. I know that Comicopia does sell a decent amount of the print volumes of Tokyo Tarareba Girls already, partially because of my influence, but also just because of the kind of customers they have.

I do think the manga winners from the Eisners help to pique the interest of comics readers who don't necessarily already read manga -- a lot of people I didn't see reading other manga would buy things like Showa: A History of Japan for example, which won an Eisner twice, I believe. It's hard to say if that's a direct response to the Eisner award itself, or whether those titles are just more in the public consciousness once they obtain significant accolades.

I have appreciated that, in recent years, manga has made it into other Eisner categories, not just the "International Material -- Asia" category that I'm given to understand was kind of made to encompass manga (though it has since expanded to other Asian comics). In general, I think part of the problem with manga at the Eisners is that you're often choosing between five vastly different manga -- in this instance, Tokyo Tarareba Girls was the only manga in its category that was created by a woman, the only one that was intended for an adult female audience, and it was up against creators like Tsutomu Nihei and Inio Asano, who are beloved by the type of fan who likes gritty, masculine, and/or melancholy manga. It's apples and oranges.

Of course, pretty much all of the Eisner categories are like this, pitting very different works against each other. I have a hard time with that kind of comparison, because it allows for books like Tokyo Tarareba Girls to go unnoticed because it's "less serious" or "for women" -- though obviously that was not the case this year, and I am grateful for that. Of course, separating out works by women or for a female audience comes with its own problems, sequestering worthy titles to a "chicklit" category. I'm not sure what the solution here is, either.

I truly believe that the way most people get into manga is by word of mouth. I think the Eisners are an important institution, but I don't necessarily think your average manga reader cares about them the way they care about what their friends or their favorite blogger or YouTuber or Twitter user have been reading and recommend.

In my experience -- and speaking for myself, as well -- manga readers seem to like what they like kind of regardless of its prestige, whereas I think a lot of hardcore Western comics fans tend to feel that they need to read the canon or keep up with what's hot now. Surely there's a certain amount of that with manga readers, but I don't necessarily see shojo romance fans scrambling to read AKIRA or else they feel like they're a fake manga fan, you know what I mean?

I think Eisner nominations and wins are helpful for non-manga readers to hear about manga they might not have tried initially. I'm not sure it'll get manga readers to come out in droves to buy the celebrated manga.

That said, I'm honestly ecstatic about Tokyo Tarareba Girls's win -- I think that it's way past time Akiko Higashimura was recognized by the Western comics world for her excellent work. I hope and pray that this will increase her sales in North America, but I know that her fans Stateside have been pushing and pushing for her work to be read by more people ever since Princess Jellyfish saw English-language print. I've written and talked about Tokyo Tarareba Girls extensively myself over the past year, and I don't foresee that stopping anytime soon. I'm not sure how many people that will reach, but I like to do my part!
As an added aside, I also recommend Blank Canvas: My So-Called Artist's Life, also by Akiko Higashimura. This autobiographical comic series published in English by Seven Seas Entertainment has Higashimura looking back to a time when she was a teen who thought she knew it all about being a manga artist – until she met a hard-nosed art teacher who teaches her the skills and discipline to get her into art college, and helps her embark on her (very) successful career as a comics creator.
And if you haven't picked up Princess Jellyfish yet, the funniest romantic comedy about fashion, female nerds and cross-dressing that you'll ever read, you can pick it all up in one big lump thanks to Kodansha Comics' Princess Jellyfish box set that collects the entire nine volume series in a pretty box with a few extras, so you can dive right in.
In the big scheme of things, does an Eisner Award mean anything for manga sales? Eeeh, probably not much. But if it does, for a tiny blip of time after the awards are handed, remind the Western comics world that great manga worth reading exists ("backwards" pages and panels be damned) and deserves recognition on the same level as anything else published in North America, then that's gotta be a good thing, right?
---
discuss this in the forum (8 posts)
|