Chibi Witch Hunter Robin Part 2
November 18, 2003

CONTEST IS OVER — WINNERS FOR PART 2 HAVE BEEN POSTED HERE

Selecting the 5 winners of the first part of our Chibi Witch Hunter Robin contest was quite hard, we received a lot of high-quality entries, a lot of very cute and some very funny ones.

In the end, we narrowed the field down to these five winners:

Grand Prize Winner:

by Vikki O.
Runner Up Winners (In no order):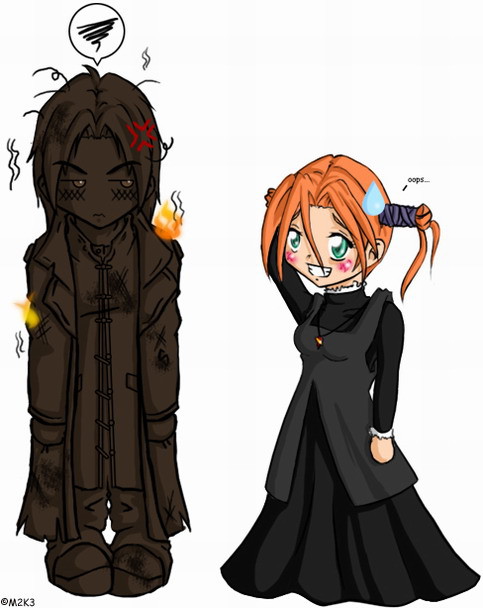 by Heather Curtis-Clayton

by Adrian Bruder

by
Gloria Gigi Peralta

by Marshall OHern
As Vicki's entry contains three chibis, each will be put on a page seperately, likewise Heather's entry will make for two pages. Two of the remaining three images will be used twice.
On midnight Sunday night / Monday morning we will be placing 10 of the above chibis on our website. The first person to e-mail us with the URLs of
all
the pages where the chibis are found will win the second Grand Prize, the next 5 correct entries will each win a copy of the runner up prize.
Forgot what the prizes were?
Grand Prize (2):


Runner Up Prizes (9):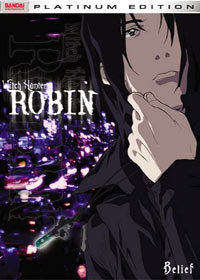 Witch Hunter Robin Volume 2
The Prizes have been provided by Bandai Entertainment, check out their Witch Hunter Robin website at
WitchHunterOnline.com
.
E-mails should be sent to
[email protected]
Congratulations to the five winners so far, thank you to everyone who entered and good luck to all you Chibi Hunters.
The Fine Print: Anime News Network reserves the right to cancel this contest at any time (Unlikely to happen). Contest is open to any and all residents of the planet Earth and neighbour parallel dimensions, but prizes will only be shipped within the continental United States and Canada (So if you win, but you live in Antarctica, you have to arrange to have it sent to someone living in the appropriate area, and they can send it to you.) Contestant names, e-mail and mailing addresses will not be given out to any one and will be erased when the winners have been confirmed. Non-winners will not be contacted, spammed or harassed in any way. We reserve the right to retroactively add new rules when and how we see fit. All entries become the property of Anime News Network to be used when and how we see fit. Contest results and judges' decisions are final and can not be appealed.
---
back to Witch Hunter Robin Art Contest & Witch Hunt
Contest homepage / archives