Witch Hunter Robin Art Contest & Witch Hunt
November 18, 2003

CONTEST IS OVER — WINNERS HAVE BEEN POSTED HERE
---
Here's a unique opportunity to win one of two Witch Hunter Robin Retail demos. Each demo set includes a large (14"x11"x4") Witch Hunter Robin box, Witch Hunter Robin DVD, T-Shirt. Poster (only half the poster is shown in the image below), sell sheet and a Bandai October 2003 catalog.
Grand Prize (2):


Runner Up Prizes (9):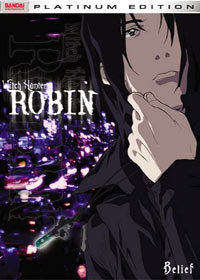 Witch Hunter Robin Volume 2
The Prizes have been provided by Bandai Entertainment, check out their Witch Hunter Robin website at
WitchHunterOnline.com
.
So how do you win this great prize?
Well, this contest will actually be run in two parts.
Part one
is an art contest. Draw us a chibi character from Witch Hunter Robin. From the submitted entries we'll select one artist as the winner of the first box. We'll also select four more to use in part 2. These 4 runner-up artists will receive the runner up prize.
Part two
is a Witch Hunt, we're going to scatter ten chibis (2 copies of each of the five) around Anime News Network. The first person to find all ten chibis will receive the second grand prize and the subsequent five winners will each win a copy of the runner up prize.
Part One Details
: Send your submission as a JPEG file to "
chibicontest (at

animenewsnetwork.com

)
" no later than 11:59 pm November 30th, 2003. Entries can be of any character from Witch Hunter Robyn (main characters recommended), must be no larger that 1 megabyte (1048576 bytes) and can be any resolution or color depth. The winning entries will be picked in an entirely subjective manner.
We'll post the details for part two when it is appropriate.
The Fine Print: Anime News Network reserves the right to cancel this contest at any time (Unlikely to happen). Contest is open to any and all residents of the planet Earth and neighbour parallel dimensions, but prizes will only be shipped within the continental United States and Canada (So if you win, but you live in Antarctica, you have to arrange to have it sent to someone living in the appropriate area, and they can send it to you.) Contestant names, e-mail and mailing addresses will not be given out to any one and will be erased when the winners have been confirmed. Non-winners will not be contacted, spammed or harassed in any way. We reserve the right to retroactively add new rules when and how we see fit. All entries become the property of Anime News Network to be used when and how we see fit. Contest results and judges' decisions are final and can not be appealed.
---