Re-Enact Your Favorite Attack on Titan Moment!

Win Attack on Titan prizes by submitting your best Attack on Titan re-enactment photo by April 16th!
Surely everyone at some time has imagined he or she was a giant, towering monster, stomping through a city, kicking down skyscrapers, grabbing puny tiny humans by the handful and ramming them into your mouth. Tremble before my footsteps, insignificant people! Perhaps you played "I'm a monster" in your elementary school days, when your parents had to pay for the carnage you wreaked on the class's toy town. Maybe you were a monster in your therapy session last week. Maybe you're playing at being a monster now. We won't judge.

Now BookWalker is giving you the opportunity to turn playtime into prizes, as we challenge you to recreate moments from the greatest giant-monster phenomenon of the twenty-first century – Attack on Titan! Of course, this is a big, nay titanic, year for the franchise, with everyone's favorite hideous grinning giants crashing back onto our screens, as the anime resumes this April. So what better time to pay tribute to Hajime Isayama's epic in photo form?
The Attack on Titan manga, published by Kodansha Comics, is a phenomenon, with more than 63 million copies in print, so we're guessing you've all read it! What we want you to do is to re-enact your favorite moments from the saga, being as brilliant and inventive as you can be within the rules, which we'll get to below. As you can see, we've put up a couple of sample photos above to give the idea of what we're after.
Please submit your entries by April 16th by following the rules and entry steps below. The photos will be judged by you, the ANN readership, in a voting poll on April 21st. Here's what you can win…
CONTEST PRIZES
1 Winner: !Union Creative Hdge Technical No. 5: Attack on Titan: Mikasa Ackerman PVC Statue (Training Corps Version).
1 Winner: MEDICOM TOY Attack on Titan Real Action Heroes Levi Figure
1 Winner: Attack on Titan Complete Season 1 Blu-ray/DVD set.
This DVD is region restricted to USA, CA, and U.S. Territories only (Region 1).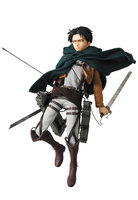 50 randomly chosen entrants will also receive 1,000 JPY (~9 USD) in WebMoney (store credit on BookWalker Global).
• BookWalker will send WebMoney to entrants by April 21st.
• WebMoney will be sent in units of 1,000 (= 1,000 JPY), and is only valid on English eBooks on global.bookwalker.jp.
• WebMoney will expire on May 13th, 2017.
HOW TO ENTER
STEP 1 To enter the contest, you need to upload your photo to Twitter, Facebook, or Instagram with #AOT_BW. Please read the rules before entering.
STEP 2 Fill in your e-mail address and share the link to your Twitter/Facebook/Instagram post in the form below,
CONTEST ENTRY FORM
Right, stand straight, face front and pay attention! Will that girl in the back please stop eating the smelly potato? Here are the rules:
CONTEST RULES
RULE ONE
No Photoshop, and no photo editing tools to enhance your picture, period. Got that? It's fine to change the picture to black and white, of course, but that's all. We'll be scrutinizing the pics very closely for cheating. What we're looking for is in-camera reality and practical ingenuity, with no post-production tweaks, thank you very much. Anyone caught breaking the rule will be rewarded with a private audience with two of Titan's stars: Sawney and Beane, at their feeding time.
RULE TWO
Cosplay is cool. As you all know already. Though it's not mandatory – entirely up to you. This is NOT a cosplay contest; contest entries will be judged for the creativity of their re-enactment. By the way, if any of you has the ability to actually turn into a horrible giant Titan, don't bother calling us. We'll just run away screaming.
RULE THREE
Do not steal other people's photos and use them as your own for the contest! Stealing's not cool, people. If we find you've appropriated someone else's tribute, you can explain to the digestive tracts of Sawney and Beane.
RULE FOUR
The deadline to send in the photos is April 16th, 11.59 p.m. Pacific Time.
RULE FIVE
You may submit more than one photo, but only ONE entry per person, selected by BookWalker, will be put on the poll. Multiple entries will NOT increase your chance of winning!
RULE SIX
Should we get an unexpectedly large amount of entries, BookWalker will select the preliminaries for the poll. We appreciate there are a lot of Attack on Titan fans out there!
The photos will be put up on a voting poll on Anime News Network on April 21st, for you, the judges, to choose the top three winners! The voting will be open until April 30th.
Winners will be announced the first week of May and they will be contacted by BookWalker Global. So please make sure you enter the correct e-mail address in the form on this contest page.
BOOKWALKER SALE
• In celebration of the start of Season 2 of the Attack on Titan anime, the first eight manga will be on sale as a bundle set for only 5,240 JPY (approximately 49.99 USD).

• The Attack on Titan manga Vol. 1 Sample can be read HERE.
• Register at BookWalker now and get a 500 JPY OFF coupon!

Attack on Titan Anime Products
For those of you who wish to purchase any Attack on Titan home video products such as the Attack on Titan Season 1 Blu-Ray, visit Funimation.com
Attack on Titan and related images © 諫山創・講談社/「進撃の巨人」製作委員会 ©Hajime Isayama,Kodansha/"ATTACK ON TITAN"Production Committee. Licensed by Kodansha through Funimation® Productions, Ltd. All Rights Reserved.
---
discuss this in the forum (10 posts)
|