2005 6th Comic Exhibition @ Taipei, Taiwan

Pre-Event Press Conference

by Chih-Chieh Chang,
I attended the pre-exhibition press conference. It was held inside the basement banquet room of a nice hotel, yet the arrangement was somewhat chaotic.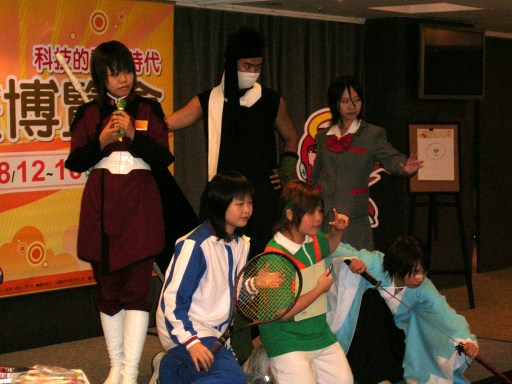 I arrived five minutes before 2 PM. There were lots of reporters already, but the hostess obviously had no idea about how to control the scene before two "special guests" arrive. Everyone was exchanging business cards – the scene reminded me of Yu-Gi-Oh tournaments! Later, I learned that there were two congressmen coming to cosplay manga characters; unfortunately they were running late, so the hostess and other staff were waiting for them. Finally, a small group of cosplayers came out to get the crowd ready.
The two congressmen cosplayed Black Jack and Vagabond. They even drew Sharaku and Mazinger Z on the spot, respectively. It was quite unexpected!

After a pretty routine speech from the politicians, the press was allowed to ask questions freely. Instead of raising their hands and asking well-prepared questions, reporters just scattered and started asking the various cosplayers questions. A lot of the reporters were mainstream and weren't familiar with the details of anime fandom, so their questions were sometimes very uninformed. Fortunately enough, I had a brief discussion with general manager of Kadokawa Shoten (Taiwan), who is Japanese. With the help of an interpreter, he explained that Kadokawa would put more emphasis on their light novels, notably Kino no Tabi (Kino's Journey) by Keiichi Shigusawa. With the experience of Hong Kong Book Fair in July, they found that light novels topped the first 20 positions of their sales chart. However, there's no plan for the anime version to be licensed in Taiwan in foreseeable future.
The rest are some target merchandise displays. Personally, Kadokawa's was the most impressive, with Emma, NHK ni Youkoso!, Iriya no Sora, UFO no Natsu (novel), and Kino no Tabi.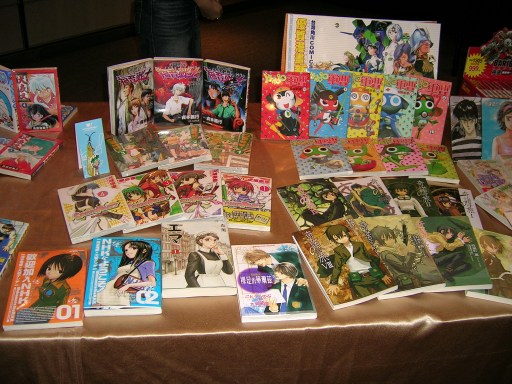 Tongli publishing, the largest manga licensor in Taiwan, announced Young Flower magazine (basically the translated Hana to Yume), featuring TWO manga from Kaori Yuki (Blood Hound and Fairy Cube) plus Fruits Basket — destined to be popular, I'd say.

Another piece of good news I heard was that after the fall of Daran publishing (second largest licensor), other licensors are now picking up interrupted tankoubon releases and will even re-publish those already covered by Daran, with better printing and translation.
---
back to 2005 6th Comic Exhibition @ Taipei, Taiwan
Convention homepage / archives