Otakon 2007

Eminence Concert

by Jonathan Mays,
July 22, 11:58 a.m.

It is an honor to attend the North American premiere of Eminence, the best video game and anime orchestra in the world. I'd worried that
Otakon
attendees would miss the concert because of its unfortunate Sunday morning slot, but instead, there is barely an empty seat in the entire hall.
The musicians arrive four minutes after noon: leader and first violinist
Hiroaki Yura
, second violinst Kenny Kao, violist Andrew Marciniak, cellist Minah Choe, and pianist Kumiko Ito. They comprise Eminence's elite piano quintet, Destiny. Choe sits opposite Yura, with Ito's Yamaha piano centered about a foot behind the string players. Ito plays the tuning A as the others check their strings. Yura breathes a beat, lifts his violin an inch, and opens a lively two-part overture. The piece is pleasant but no challenge for a group of this caliber. A key change in the middle gives the violins something to do until the viola retreats to the first melody. Sitting quietly, the audience waits for the right time to give a polite but enthusiastic applause.
A man in a black Eminence shirt, classy blue jeans, and a grey sports coat enters from stage right. "We are so excited to be here today. Welcome to Otakon 2007. Ladies and gentlemen, boys and girls, tentacled monsters, ninja, samurai, and all you freaks out there: we are Eminence, and this is part of our Destiny World Tour. We are so happy to be invited to play here today. We have such a large and varied range of music today from various video games and Japanese animation. I'd like to say Eminence: we are the premiere music production company in the world specializing in video games and Japanese animation, and film soundtrack performances and recordings. Here at Eminence, we prefer to let the music do the talking.
"So without much to-do—oh, and you have just heard 'Kakki,' a song from
Romeo X Juliet
, a Studio Gonzo animation by legendary composer
Hitoshi Sakimoto
. And our next three pieces that you will hear will be: from the assassin hitman anime
Noir
, 'Canta per me' by
Yuki Kajiura
. Secondly, 'Hako no Niwa' by
Yasunori Mitsuda
. And then, 'Oshyaberi,' another tune from the Romeo X Juliet animation by Hitoshi Sakimoto. Please, take it away."
Viola and cello play spiccato for the opening four measures, and Yura glides into the Noir melody. Dignified purple and blue lights cool the mood. The piano pokes at the lower line, imitating Choe and Marciniak. Ito opens the first repetition of the melody with a perfect note three octaves below Yura's, and she ends the short segment with a barrage of ascending notes, punctuated by two top-octave taps. Choe nods to the beat.
"The arrangement is exceptional, with sharp dynamic flourishes challenging the quiet, pensive theme."
Staying in A minor, the musicians pull a cool trick to change the pace: Ito keeps the same line while Yura and the others restart the melody on a different note. By swapping half steps and whole steps, the entire theme feels squished. Two minutes later, the spacing resets for a dynamic violin solo with light piano and viola harmony. The beautiful piece ends on a soft note that barely reaches its eighth beat. Applause, then ten seconds of silence.
Yura introduces the first Mitsuda number of the concert, "Hako no Niwa." A short pizzicato bit gives the pensive opening a light kick. The piece relies on its nuances and thoughtful arrangement, and the quintet rises to the challenge, giving each pause time to breathe and holding the volume at a light simmer. "This is nice," says a friend. With a calm but extended applause, the audience agrees.
Another long pause, and then "Oshyaberi." Yura and Kao weave their bows through arpeggios, and Ito teases with a few notes. The carefree melody adopts a carnival pastiche as Ito juggles chords in the midst of Yura's high wire act. Relegated to backup accents, Marciniak looks bored. But he has no time to dwell: in fewer than two minutes, the piece is over.
"My name is Terrance, and I'm the MC and Executive Editor for Eminence. So, at this point in time, I'd like to introduce my co-host for the event today. He's no stranger to Otakon. In 2005, he was the guest celebrity performer here in this main hall. He has also helped us by introducing us to Otakon so that we may be here today. He is no stranger to video game music, and he is a performer just like ourselves. Please welcome Piano Squall."
Cheers in the audience and a couple of wry smiles on stage. "I am so excited to be here today. I'm so excited to see this room packed to capacity for Eminence. Thank you all for coming." Applause. "I had the privilege of performing for you two years ago on this stage. I never would have imagined that two years later I would be back with five of the most talented members of the Eminence orchestra. Let me tell you what makes these guys so special. Ten years ago there was no such thing as a video game or an anime music concert, if you can believe that."
Terrance hands him a working microphone. "Hey! Did anyone hear a word I said? Ah, good projection. What I was saying was that ten years ago no one had ever heard of a video game or anime music concert. Here's a group of classically trained professional musicians who said, 'We love video games. We love anime. We love this stuff so much that we're going to go out and use our talent to spread video game and anime music all over the world.' That's what these guys do.
"But they live in a strange, faraway land called Australia. And that's just not fair. I've been friends with Eminence for a very long time. And I said to these guys, 'Will you ever perform in the United States? Will you ever give us the honor of allowing us to hear your performance in this country?' And they said, 'Yes, we would love to come to the United States and perform for you.' But until now, our concerts have been limited to Australia, Japan, Singapore. We have never made a debut performance in the United States.' I said, 'I know just the place.' I said, 'I know where you need to be. You need to be at Otakon because I know how much we love video game and anime music at Otakon.'" He walks through the quintet, between Yura and Kao, to reach center stage.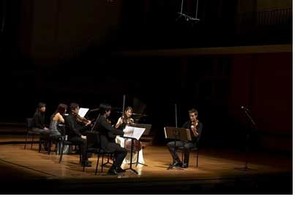 "And it is just so incredible that this all came together. And here these guys are from halfway around the world: the only orchestra that specializes in the music of video games and anime in the entire world. Here they are with us today. Give it up! Show them an American style—" Applause interrupts.
"But Eminence has not come alone today. No they haven't. This, this, my friends, is a real treat. Eminence has not only come from across the world to share music with us today, but they have brought with them a most legendary video game and anime music composer from Japan."
"By the age of 25, get this, by the age of 25, this man had composed video game and anime music for more than 125 different titles, by the time he was 25 years old. I don't know what I'm doing with my life right now. I'm sitting up here in tight leather pants while he's writing for 125 shows. In 1997 this man joined a company you might have heard of called
Squaresoft
—nice place, nice place—where he wrote the soundtrack to a little game called Final Fantasy: Tactics and another little game called Vagrant Story.
"At that point he left Squaresoft to establish his own independent music production studio, where he went on to compose the soundtrack to Final Fantasy XII, the soundtrack to the new anime Romeo X Juliet, and finally, the soundtrack to a game that I'm so freaking addicted to right now that I almost missed my flight to Baltimore: Odin Sphere. Guys, you don't want to be sitting down for this one. Let me introduce to you: it is with tremendous excitement and humility"—Ha! —"that I present you the legendary master Hitoshi Sakimoto."
A standing ovation greets Sakimoto, who walks on stage and shakes Piano Squall's hand. But he doesn't get to speak? Squall: "For the next piece, we will hear the work of Hitoshi Sakimoto, the main theme from the RPG Odin Sphere, followed by, by Yuki Kajiura, 'Grandpa's Violin.' Enjoy."
After an eight minute MC—one minute shorter than the combined duration of the previous three pieces—Yura brings the music back with a solo spin on Sakimoto's orchestra theme. Ito adds sparse piano accompaniment, and the other strings play marginal roles until the second melody. The arrangement is exceptional, with sharp dynamic flourishes challenging the quiet, pensive theme. Choe and Marciniak lead a madrigal turn but only for a moment until the theme finds its roots as an epic overture. The applause is fine but deserves to be stronger.
"The audience acknowledges the obvious: it doesn't get any better than this."
Only Yura and Ito remain on stage. "Grandpa's Violin" needs no special arrangement for solo violin and piano, but like any good performer, Yura adds his own flourishes. With hairpin dynamics and a fluid sense of beat, he shows the song more care than Kajiura's violinist did on the
Dot Hack
recording. This version is also faster than the original by about half a beat per second. The audience seems to appreciate the details.
Enter Terrence. "Why Destiny? Destiny is the name of our elite chamber ensemble started in 2005. These are members of our prestigious
Eminence Symphony Orchestra
. We really wish we could have brought the orchestra here." Applause.
"Just last week, as part of our world tour, we performed in Tokyo to a full house audience. And in this audience, there were many industry heads, and we were honored to be playing in front of them. It was reported that just after ticket sales had opened, we were sold out in less than ten hours. It was an excellent concert, and we are really excited to be bringing what we played there here.
"I would like to, at this time, introduce the members of our Destiny ensemble. On first violin, and also the founder and concertmaster of Eminence, Hiroaki Yura. On second violin, and an import from that unknown country New Zealand, Kenny Kao. On the cello, the very pretty Minah Choe. And the real Australian of the group, on viola, Andrew Marciniak. Can you say something really Australian for the Americans here?"

"Uh, whatddya want to hear, Cahh? Car? Arr? That's how you Americans talk: like pirates. You really pronounce your r's. Arrr." Much laughter, especially among the musicians.
"And on the piano, the gorgeous and talented Kumiko Ito.
"Our next three pieces come from the Academy Award winning composer of
Studio Ghibli
. You're about to hear the main themes to three anime that I really do not need to talk about. You've definitely heard of them all. First up, the main theme to
Princess Mononoke
. Secondly, the main theme to
Laputa: Castle in the Sky
. And thirdly, the main theme to
My Neighbor Totoro
."
Yura spins his bow into position and opens a splendid arrangement of
Joe Hisaishi
's Princess Mononoke theme with five reticent string chords. The first violinist plays the first beat, and the chord cascades one note at a time to the viola, cello, and second violin. They play the final three chords in unison, leading Ito into a five-octave scale from which she introduces the familiar melody. Ito plays no chords in the first run, leaving the entire harmony to the strings. The tempo picks up slightly as Ito fills in her own accompaniment. Fantastic.
After gliding in the background for thirty seconds or so, the strings gallop softly as Ito repeats the second half of the melody line. Ninety seconds in, and already there's too much to say about Hisaishi's brilliant themes. Marciniak puts on the brakes for two beats, carrying the melody to its end. Ito mimics the harp interlude with an effortless performance that puts Studio Ghibli's modest piano recording to shame. Then it's Yura's time to shine, but he misses the mark just slightly, squeaking on the second note of the repetition. Kao, Choe, and Marciniak pluck underneath him.
Choe assumes the melody, with Ito filing in the offbeats until she takes the handoff at the end of the phrase. It all leads to an effusive string chorus accented by Ito, the loudest part of the concert yet. Yura uses every inch of his bow to lengthen the notes while keeping the tempo. Then they pull back, playing the same phrase louder, then softer. Ito takes the melody one last time, an octave lower than in the opening. She ends with two equal notes, leaving the final downstep to the strings. The audience acknowledges the obvious: it doesn't get any better than this.
Ito opens the Castle in the Sky theme with two brief scales, lingering for a fraction of a beat as she ascends the second time. Accenting two notes on top of a swelling string line, she betrays the next phrase, a playful call and response between the violins and lower strings. Thirty seconds in, Yura gets down to business with one of the most beautiful five-note melodies in anime history. Flipping the pattern of Hisaishi's recording, Yura adds a half beat rest to the second phrase and squeezes every drop of sound from the first. Marciniak and Choe play a light harmony of whole notes and an occasional turn.
Lacking the original's timpani surge, Ito glides up the top half of the piano and pulsates from high above in sets of two and three, each softer the second time. Choe keeps the same line as Marciniak weaves chords and Yura digs even deeper. Ito entertains a few first-beat flourishes and then walks through the rest of the line. Too soon, it's time for her to take the melody. Ito's top-octave chimes are a fine substitute for the oboe, but they don't stand a chance of matching the last phrase's absolute beauty. It is hard, too, not to feel cheated when Marciniak takes his turn. Unable to indulge in the original's soaring cello line, Choe can only pluck the time away.
But all is forgiven when Ito crashes chords and fells arpeggios, starting each measure with a bass beat that echoes through the hall. Yura and Kao soar through the theme, pausing only just before Marciniak ends it on his own time. As he holds his
Last Note
, Ito chimes from above and then on the viola's level, slowing each time until she ends the piece with anticipation: an A sharp against Marciniak's C. Somewhere, Joe Hisaishi is smiling.
---
back to Otakon 2007
Convention homepage / archives