San Diego Comic-Con International 2009

Astro Toy with Rob Bricken: SDCC Day 1

by Rob Bricken,
Greetings, folks. Yes, it's a special edition of Astro Toy, coming to you right from… well, my hotel about 10 blocks away from the San Diego Convention Center. But that's okay, because I took some photos of the anime toys that crept up like beautiful, nerdy weeds among the massive TV show and movie displays. The San Diego Comic Con isn't really known for it's plethora of anime toys — hell, it's not much known for comics at this point — but there were still some good ones. In this first of my three Astro Toy Special Editions, I'll focus on the goods and goodies of two different companies and what they got goin' on. First up: Bandai and Toynami.
BANDAI

First of all, Bandai's sharing a booth with Toynami, so I'm already cheating a little bit. But it's a big booth, and both companies have a lot going on. As always, Bandai puts their newest Gundam in the center — this is a 1/36th scale model which just looks beautiful in person. There was no info about it, so it's either an upcoming product in Japan we'll have to import or it was just for display. I'm betting on the former.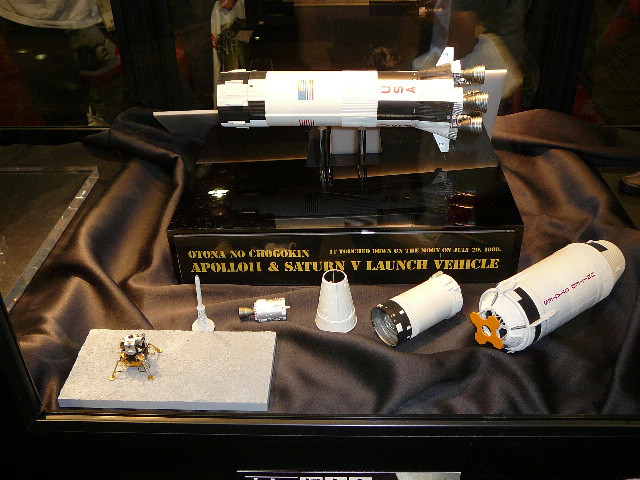 Bandai also revealed a new Chogokin line — Otona no Chogkin, made for adult collectors in that is comprised of awesome, die-cast metal models of real-life nerdy monuments of technology, like the Apollo II space module and Saturn Launch Vehicle you see here. There wasn't any other info on the series, but I'm betting it will include more real-life space craft and satellites.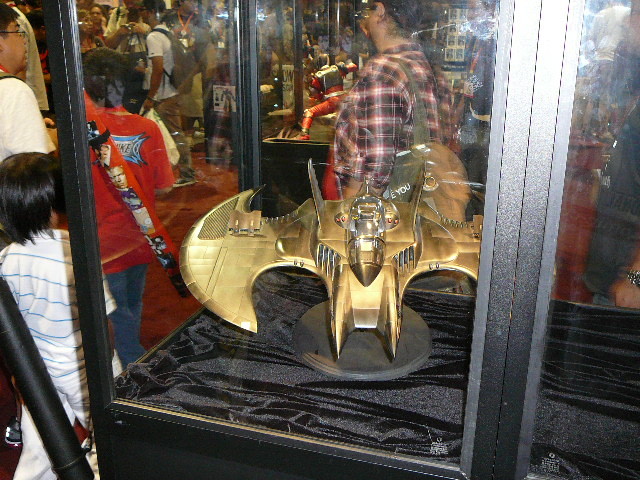 There was absolutely zero information about this amazing 2-foot diameter Batpod model from the 1989 Tim Burton
Batman
movie, but man was it setting the Amercian comic fanboys off with its awesomeness. It is does become a product that's for sale, it will be very, very expensive.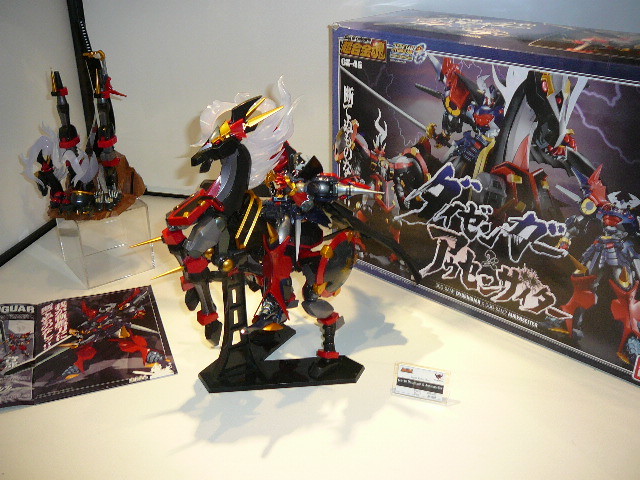 Bandai did have a few anime toys, but not too many. Here's an awesome robot riding an awesome horse, which I believe is from
Super Robot Wars
? (Please be gentle correcting me in your comments.)
TOYNAMI

Toynami actually had more anime toys on display than Bandai at SDCC. I'm going to go straight to the good stuff and their swell
Naruto Shippuden
figures. You can see Gaara above as well as the non-painted prototype for what I think might be the best Kakashi figure ever made. The picture doesn't do it's incredible accuracy justice. If there's only one American company that truly knows how to render anime characters in 3-D, that company is Toynami, hands-down.

Toynami is also bringing over some of the better
Naruto
gashapon sets as the "Ninjutsu Collection." The best is that while they're packed in boxes or identical size as their Japanese counterparts, they aren't blind! You can pick which ones you get! No clear or gold variants! You won't be throwing your money down the toilet! Wow, what a concept!

For the first time in 25 years, there's going to be 12-inch
Robotech
figures. Well, that's not exactly true. To be exactly true, I'd have to these are 12-inch Macross figures, beginning with Hikaru Ichijo (a.k.a. Rick Hunter) in his Valkyrie (a.k.a. Veritech) flight suit. He's dreamy, and I'm not just saying that because I want to own him and have him make out with my 12-inch
Robotech
Lisa Hayes figures from 1985.

I promise you that Toynami ain't dying to bring out all these
Macross
products. But since
Robotech
is just a huge nightmare of legal issues, it's easier for Toynami to just get the
Macross
license from Japan and make toys in Macross packaging they know American
Robotech
-lovers want — case in point, this Zentraedi Battle Pod, scaled to Toynami's smaller line of
Macross
mecha. I really hope that their Masterpiece Cyclone Armor figures from
New Generation / Mospeada
means that we might get some invid mecha at some point down the line.
Sorry to keep it short and sweet, but I'm off to hunt down Square Enix and Kotobukiya. Look for them tomorrow.
---
discuss this in the forum (11 posts)
|
this article has been modified since it was originally posted; see change history
back to San Diego Comic-Con International 2009
Convention homepage / archives