×
remind me tomorrow
remind me next week
never remind me
Subscribe to the ANN Newsletter • Wake up every Sunday to a curated list of ANN's most interesting posts of the week.
read more
Otakon 2010

Astro Toy at Otakon 2010: Modeling Contest

by David Cabrera,
I'm at Otakon this weekend, and I was a little worried that there wouldn't be anything relevant to my specialty at the con for me to cover. Thankfully, there's a modeling contest going on, and today we can do a kind-of Astro Toy.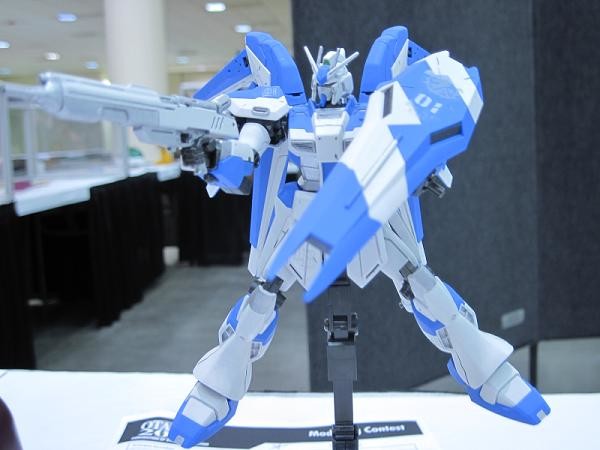 The contest is technically for any and all kinds of kit (so long as you built it yourself), but one franchise clearly dominates the crowd: I'm talking about Gundam, of course. It was actually announced about a week before the con that this contest was also an official, Bandai-sponsored Gunpla (Gundam plastic model) contest. This probably didn't have much of an effect on the entrants-- it takes a really long time to build a really good model, and it would have been wise for this announcement to come long in advance-- but the vast majority of the kits on display came from Gundam regardless.



Speaking for myself, I was most impressed by this three-piece tribute in crimson to the Red Comet, Char Aznable. Three kits of the Zeon ace's preferred (and red) mobile suits were meticulously made over, rebuilt, and otherwise altered. Things as major as the added LED eyes and the Zaku's smoking rocket and as minor as added detailing inside the shield on the Sazabi are elements that were added from scratch to the original Master Grade model kits.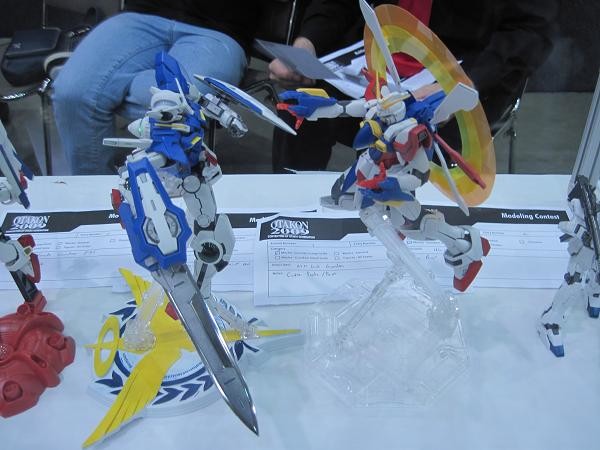 Of course, there were other Gundam kits on display, from original UC robots to G-Gundam to even the SD Gundam range. I'm the kind of guy who always roots for G-Gundam.
Non-Gundam oddballs in the robot department included a gorgeously painted Five Star Stories kit and a urban-camo painted kit of the Apparition from Linebarrels of Iron, the latter of which actually took the Best Mecha/General prize. That's right, Linebarrels of Iron! Everybody hates that show, but you can't argue against a beautiful robot.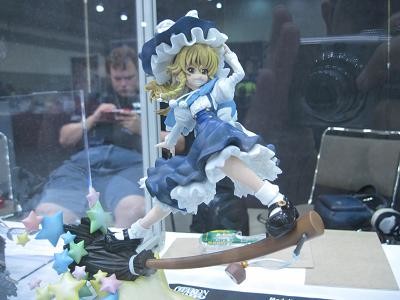 On the girl figure side of things, we have two exact opposites sitting next to each other. The almost unreasonably busty ninja Ayane as seen in Ninja Gaiden, and the witch Marisa Kirisame, one of the two main heroines of ZUN's Touhou shooting game series, sit next to each other uneasily. Ayane won the Best Figure prize.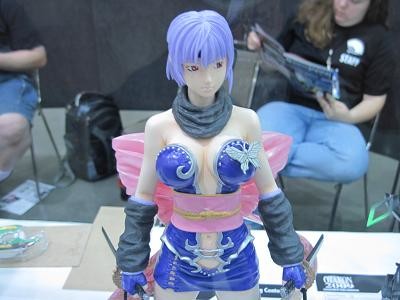 The Best In Show and the best Large Gundam awards were won by a single modeler: James Mitchie and his Gelgoog (another famous Char ride). You'd never have guessed this kit was handpainted. Mitchie walked off with a small mountain of Gundam kits, including, to his great and pleased surprise, a Perfect Grade Gundam Mk.II in dark blue Titans colors. Congrats to all the winners, and I hope to see even more awesome robots (and other stuff) next year!
Your results in a convenient list form:
Best in Show and Best Gundam/Large: Gelgoog. James Mitchie.
Best Gundam/Small: GM kitbash, Sophina Thomas
Best Figure: Ayane (Ninja Gaiden version), Nadine Patrick
Best Diorama: Hygogg as seen in Gundam 0080, Mike Vares
Best Mecha/General: Apparition from Linebarrels of Iron, Chris Furlong
---
discuss this in the forum (2 posts)
|
back to Otakon 2010
Convention homepage / archives