×
remind me tomorrow
remind me next week
never remind me
ANN Reader Survey • If you haven't had a chance yet, please fill out our annual survey, It's so helpful to us. As a thank you for filling out this massive survey, we're giving away 100 ANN subscriptions to people who fill it out.
read more
×
remind me tomorrow
remind me next week
never remind me
Subscribe to the ANN Newsletter • Wake up every Sunday to a curated list of ANN's most interesting posts of the week.
read more
San Diego Comic-Con 2010

TOKYOPOP Industry Panel

by Gia Manry,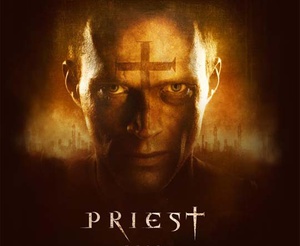 TOKYOPOP Senior Editor Lillian Diaz-Przybyl joined editor Cindy Suzuki and former editor/Return to Labyrinth writer Jake Forbes for the company's industry panel, which launched with talk about the 2010 bus tour to find "America's Greatest Otaku". Upcoming events include Otakon, Gen Con, Wizard World Chicago, and others.
Diaz-Przybyl followed up with discussion of the upcoming Priest film and the four-issue comic series developed by TOKYOPOP to bridge the gap between the original manga and the film. The iPhone app for the comic is available now, as is the first issue of the comic; volume 2 is due out this September.
A new series from Min-Woo Hyung, who is the creator of the original Priest manga, has been licensed by Tokyopop titled Ghostface. Tokyopop has partnered with Skelanimals, a merchandise property featuring "adorable" animal skeletons, and will be releasing collectible books, among other things.
Next, Diaz-Przybyl asked attendees to follow Tokyopop on Twitter and Facebook. The company is also partnering with Zinio for digital manga distribution, with a variety of Tokyopop's original works available at US$5.99 per book. They will also be providing downloadable PDFs via Overdrive, a service that makes digital content available via libraries.
Tokyopop will release jigsaw puzzles of some of Tokyopop's original series, including Princess Ai and Bizenghast, which are available at Barnes & Noble bookstores. The company's film based on the original Van Von Hunter work was an official selection at the Fantasia Festival 2010, its soundtrack is now available on iTunes, and the DVD is available through CreateSpace, a print-on-demand DVD company.
Diaz-Przybyl then went through current and upcoming releases:
Return to Labyrinth's writer, Jake Forbes, spoke briefly about the story's summary, in which Sarah's young brother Toby is kidnapped by the Goblin King and made heir to the throne, while the king, Jareth, attempts to chase Sarah. Forbes discussed the complexity of working with a licensee like the Jim Henson Company and his own past as a Tokyopop editor on titles including Fruits Basket and Sailor Moon.
The Chibi Vampire: Airmail anthology features epilogues and other stories, including comics about creator Yuna Kagesaki's trip to SakuraCon in Seattle. The How to Draw Shojo Manga how-to book features contributions from the editors and artists of Hakusensha's shojo manga, including Fruits Basket, Vampire Knight, and Ouran High School Host Club.
The fantasy shoujo manga Demon Sacred by Natsumi Itsuki (Jyu Oh Sei) will have its first two volumes released simultaneously for an SRP of $5.99. Gakuen Alice is going to shift to a bi-monthly schedule to catch up with the Japanese releases faster.
New licenses were announced for Tokyopop's yaoi line, Blu, starting with two titles in the Gakuen Heaven franchise. Each series follows the main character's relationship with one of the other characters from the original visual novel that the series is basd on. The two titles are Endō. ~ Calling You (9/7/10) and Shichijo ~ Sweet Sweet Darling (1/11/10), by artists Spray and You Higuri respectively.
Also licensed were @Ellie Mahara's Baseball Heaven, due out 10/12/10, Stray Cat by Halco (11/9/10), Secretary's Love by Tohko Akiba (12/7/10), and You and Me., Etc. by Kyūgō (2/8/11)
Other upcoming titles in 2011 include an original manga based on Joss Whedon's film The Cabin in the Woods, due out 1/9/11. Tokyopop will release The Secret Notes of Lady Kanako, a series about a girl who keeps a journal about all of her friends' dramas, due out in January 2011. Lives, by Battle Royale artist Masayuki Taguchi, will see its first volume released on 2/8/11, rated Mature.
A Chibi Vampire Official Fan Book featuring quizzes and new artwork will be released on 1/11/11, as well as a new series by Chibi Vampire's creature, Yuna Kagesaki. It's currently titled Hekikai no AiON, a slightly darker, "creepier" series, with the first volume due on 2/8/11. Another Kagesaki work that predates Chibi Vampire, Sakura no Ichiban!, will be released in the summer of 2011.
The first volume of Touya Tobina's Mr. Clean: Fully Equipped (Keppeki Shonen Kanzen Soubi), about an obsessive-compulsive neat freak, will be released on 3/8/11. Koge Donbo's Pavane for a Dead Girl will be released on 3/8/11 as well.
---
discuss this in the forum (12 posts)
|
back to San Diego Comic-Con 2010
Convention homepage / archives