×
remind me tomorrow
remind me next week
never remind me
ANN Reader Survey • If you haven't had a chance yet, please fill out our annual survey, It's so helpful to us. As a thank you for filling out this massive survey, we're giving away 100 ANN subscriptions to people who fill it out.
read more
×
remind me tomorrow
remind me next week
never remind me
Subscribe to the ANN Newsletter • Wake up every Sunday to a curated list of ANN's most interesting posts of the week.
read more
New York Comic-Con 2011

Viz Media Press Only Panel

by Crystalyn Hodgkins,

Brian Piech, Vice President of Digital Publishing, hosted a special Viz Media panel for press on Friday. Also in attendance were Alvin Lu, senior Vice President and General Manager of Viz Media, and Hisashi Sasaki, an executive at Shueisha.
Piech mentioned Viz's manga iPad app that launched last November, and then the Viz Manga website that launched at San Diego Comic Con in July. There are currently more than 40 series and more than 450 volumes available digitally, and Viz is getting caught up with some of the series in print.
Piech then announced Shonen Jump Alpha, which will be a digital version of its Shonen Jump magazine. This magazine will be released weekly, with 48 issues released per year, and it will host digital chapters of One Piece, Naruto, Bleach, Bakuman., Toriko, and Nura: Rise of the Yokai Clan. The magazine will start on January 30, 2012. The magazine will release chapters of those manga two weeks after they are released in Japan. The price of the magazine is $25.99 for a yearly subscription (the same as the current print subscription), or a trial version, where readers can pay for an issue for $0.99, which will allow readers to read the weekly issue as four-week rental. Shonen Jump Alpha will be available for iPod Touch, iPad, iPhone, and on Vizmanga.com.
Piech also announced that the April issue of the print version of Shonen Jump, which streets in March, will be the magazine's last issue.
Piech also addressed the issue of what happens to the chapters in between where the print Shonen Jump magazine is at and the new near-simultaneous release chapters that will be in Shonen Jump Alpha. Viz Manga will do what they call a "warp," a digital speed up of those manga chapters, where they will release digitally all the chapters in between, so fans can be completely caught up with those series before Shonen Jump Alpha launches in January.
For example, Naruto volume 53 was released digitally on Friday. This is a digital-first release; the print version of the volume will not be released until December.
Lu then spoke, and he mentioned that Sasaki was an editor-in-chief at Shonen Jump for a while, and was the one who discovered Nobuhiro Watsuki, the creator of Rurouni Kenshin. Lu mentioned that Shonen Jump Alpha was a very significant announcement, and added that it has been very difficult to capture the energy of manga in Japan, and Lu mentioned that because each chapter of a manga is released in a magazine each week, the millions of readers of Shonen Jump read each new chapter at the same time each week, and audiences feed off of that energy. In North America, Lu noted, what's released is more the finished product, the book form of manga, and it is only with digital technology that something like Shonen Jump Alpha is now possible.
Then Sasaki spoke, and he said Shueisha was very excited about the new venture, and in this tough economy, he respects all the efforts of Viz's staff to bring Shonen Jump Alpha to North America. Sasaki added that there is a lot of content in the Japanese Shonen Jump that hasn't been introduced to the American market, and he looks forward to introducing American manga fans to more of that content.
And with that, Viz launched into a Q&A. Lu mentioned during the Q&A that Shonen Jump Alpha will only be available in the U.S. and Canada currently, and there are no plans right now to expand it worldwide, however, they won't deny the possibility of doing that in the future. Viz also noted that it is possible it will release some Shonen Jump titles as digital-only titles, and it is looking at expanding the lineup. Viz will also look into evolving the editorial content for the digital version of the magazine. Piech mentioned that Shonen Jump Alpha is a direct result of listening to what the fans wanted.
When asked why the release isn't completely simultaneous, Lu mentioned that right now, if Viz can get this right, then the company can begin to close the time gap to making it completely simultaneous, and then also look into expanding the magazine into other countries.
After the panel, ANN then sat down with Mr. Lu and Mr. Sasaki for an in-depth interview about the new magazine and Viz's digital manga in general: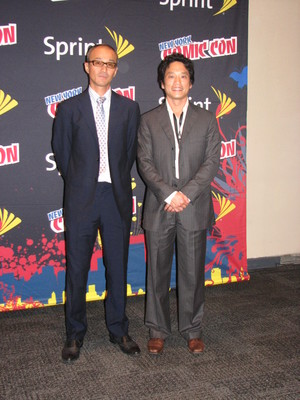 ANN: This is a very ambitious project. How long has this been in development?
Lu: My answer to everyone is that it's been in development for 25 years (laughs).
Sasaki: The first time I heard from Alvin about this project was a little more than a year ago.
Is this new project part of the reason why the simultaneous release of RIN-NE has stopped, because you focused your efforts instead on this new project?
Lu: The two are not related.
Are you planning on expanding this out to more than Shonen Jump titles?
Lu: The weekly high-frequency, close-to-Japanese publication form is a long-held dream in North American manga publishing in general. It's been a challenge for everyone involved to figure out how to do it. It's a very significant step forward in making that happen. So, if this works well, Viz is committed to working with the magazine format, and we'd love to do more if this does well.
The $0.99 rental for four weeks, is that just for the first issue, or can readers purchase every single issue for rental for four weeks at that price?
Lu: Every single issue can be rented for the $0.99 price.
Is the $25.99 subscription a rental as well? Or can readers keep the issues if they subscribe?
Lu: Every single issue will be available for 52 weeks. If your subscription does end, all the issues that you accumulated over 52 weeks will not disappear all at once; they will exist for 52 weeks.
With working on such a fast-paced project, there are bound to be some spelling, grammatical, or translation errors. Do you plan on going back through the chapters more in depth before publishing them in their book format in print?
Lu: It's a common understanding in Japanese publishing and inside Viz that in some sense, what appears in the magazine and what appears in the graphic novels are actually two different types of content. The magazine is a live performance as it were, and the graphic novels are the permanent archived version of that. The artists work very consciously in that way. To respect the writers' creative process, we don't want the magazine to be perceived as a permanent form. It's a temporal form that you read immediately upon release, and the graphic novel is the permanent form, and our releases will reflect that.
Considering both the "warp" and Shonen Jump Alpha, are you worried that this will affect print sales?
Lu: We actually hope it will enhance print sales. We hope the digital magazine will expand our reader base and fan base. The $0.99 point of entry is a very low barrier to entry. We hope to get more people into manga and find the series they really love and collect them in a permanent form.
What do you plan to do about those who have a subscription to the print version of Shonen Jump?
Lu: We're reaching out to them in a number of different ways; we want to take care of them. They are our most valuable customer and we want to make sure they are taken care of and respect their wishes. We think this is what they've always wanted. We will give them up to a year subscription to Shonen Jump Alpha if they are a current subscriber, we'll also throw in a few graphic novels to sweeten the deal, and encourage them to try it out. However, we'll respect if they don't want to. Unfortunately we cannot continue the print version, but we're not forcing them to switch over. They can opt out.
Do you plan on rolling into Shonen Jump Alpha what the English website of the Japanese Shonen Jump magazine does for new series, where fans can download the first chapter of the new series for free in English (ie: St&rs, Kurogane)?
Sasaki: I don't know if this directly answers your question, but we do not have plans to have these new stories in Shonen Jump Alpha at this time. Our mission is to expand the manga market in the United States - expand the channels of manga distribution. Shonen Jump Alpha will be one of those channels, and Shonenjump.com will be another one. We'd like to increase the number of people who read manga and people can enter manga through either channel. But our mission is to expand the market as much as possible.
How has digital been in general for Viz?
Lu: It's an investment and it's growing – it's growing quite happily (laughs). We have a lot of confidence we can make this business model work.
---
back to New York Comic-Con 2011
Convention homepage / archives