San Diego Comic-Con 2011

Stan Lee and Yoshiki

by Carlo Santos,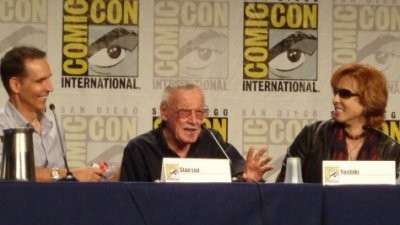 Left to right: Todd McFarlane, Stan Lee, YOSHIKI.
A unique creative team joined forces at Comic-Con 2011 as living legend Stan Lee, X-Japan drummer/pianist YOSHIKI, Spawn creator Todd McFarlane, and writer Jon Goff announced the launch of their new comic series, Blood Red Dragon.
The panel began with a promotional video showcasing YOSHIKI's worldwide fame, as well as displaying some preview images of the comic. Panel moderator Joey Esposito then introduced the comic's creators as they took the stage.
With his natural showmanship, Lee led the panel most of the way, beginning with effusive praise for McFarlane's and YOSHIKI's talents. He then explained how he met YOSHIKI at a party and originally planned to collaborate on a music video (with Lee making a cameo, of course). YOSHIKI then explained how they came up with the idea for the comic: Stan offered to turn YOSHIKI into a superhero. Speaking about his intentions, YOSHIKI added, "I wanted to beat Spider-Man. I wanted to beat Batman."
With YOSHIKI starring as the protagonist of the series, Lee worked out the series' creative direction and brought in McFarlane and Goff to handle the actual story and art of the comic.
When asked what what he wanted to accomplish from the comic that he couldn't accomplish with music, YOSHIKI first answered, "I don't know." McFarlane, however, said that the comic was a way to experience YOSHIKI's creative expression outside of simply going to his concerts. YOSHIKI then expanded on this by saying, "Our concert is usually filled with fans, but this comic book, we have a lot of enemies. That's wonderful. We have something to fight [against]."
Goff detailed the plot of the comic, describing how YOSHIKI's character in the comic manifests superpowers through his music, but must use those powers defeat an enemy that seeks to control the world. Goff also added that the story elements in the comic connect with the themes and lyrics of X-Japan's repertoire.
The most interesting marriage of comics and music, though, could be found in the preview copy of Blood Red Dragon itself: when opened, the comic plays a snippet of music like a greeting card. YOSHIKI's concept for the music clip was something spooky, but—in his own words—"with an Asian taste, a dragon taste."
The panel was then opened up to questions. One audience member asked if there are plans to include other members of X-Japan as characters in the comic, and YOSHIKI said that he would love to incorporate them into the story. Another question was about the possibiltiy of a tie-in music video, and although the project is still in its early stages, McFarlane was interested in the idea. McFarlane also added that he was impressed about YOSHIKI's level of personal input in the comic, as opposed to other celebrities who often just want their name slapped on a vanity project.
---
discuss this in the forum (2 posts)
|
back to San Diego Comic-Con 2011
Convention homepage / archives