×
remind me tomorrow
remind me next week
never remind me
Subscribe to the ANN Newsletter • Wake up every Sunday to a curated list of ANN's most interesting posts of the week.
read more
New York Comic Con 2013

Viz Animation Featuring Neon Alley

by Crystalyn Hodgkins,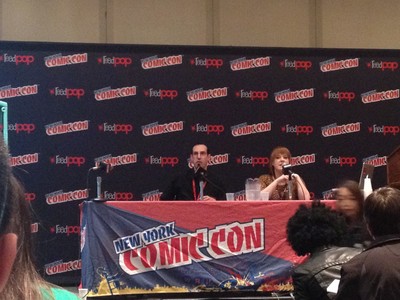 Charlene Ingram (senior manager of animation marketing) and Kevin Kleinrock (program director for Neon Alley) hosted the Viz Animation Featuring Neon Alley panel to another standing-room only crowd on Saturday evening. All attendees got a free T-shirt, a pair of glasses, posters, and a 30-day subscription card for Neon Alley.
Ingram started the panel by screening a trailer featuring anime that will stream on Neon Alley during the new fall season, including Gurren Lagann, Madoka Magica, K, Zetman, Ranma ½, One Piece, Magi, Revolutionary Girl Utena, Bleach, One Piece, Tiger & Bunny, Fate/Zero, and more.
Ingram then explained Neon Alley. Neon Alley is a service that streams anime 24/7 uncut, in HD, and with an English dub either on an Xbox 360, PlayStation 3, or PC. Neon Alley also hosts convention coverage and contests on the channel. The channel is US$6.99 per month. Kleinrock described it as "your anime lifestyle channel." He noted even the ad breaks feature commercials for anime DVDs, video games, manga rankings, and contests.
Neon Alley just launched its catch-up feature on the PC that will allow viewers to watch episodes they may have missed. Every week Neon Alley shows new episodes, and many of the shows on Neon Alley debut the English dub before the dub is are available otherwise digitally or on home video.
Ingram then talked about Neon Alley's fall lineup, which starts next week. For each show, Ingram showed a trailer. Revolutionary Girl Utena will stream on Fridays on Neon Alley. Neon Alley's stream will feature the remastered version of the show from Japan. Puella Magi Madoka Magica will also stream on Fridays. Magi will also stream on Fridays. Bang Zoom! Entertainment had a booth at Anime Expo this year where they held auditions for the English dub cast for the show. Gurren Lagann will stream on Thursdays. Two episodes Ranma ½ will stream on Neon Alley in HD on Fridays. Ingram mentioned that Ranma ½ was the first manga she ever read, before she knew it was manga. On Saturdays, Neon Alley will stream new episodes of Naruto Shippūden. Other shows on Neon Alley that are continuing from last season include Tiger & Bunny, Blue Exorcist, InuYasha: The Final Act, the Berserk The Golden Age Arc films, InuYasha, One Piece, Death Note, Vampire Knight, and more.
Ingram mentioned Neon Alley is available on Facebook and Twitter. The Neon Alley team is always open to suggestions, and they keep a log of all suggestions made through Facebook or Twitter.
Ingram then talked about new anime releases: Naruto Shippūden: The Lost Tower, and Naruto set 16 are available now, as is Bleach set 18. Bleach set 19 will ship on December 10. Tiger & Bunny the Movie: The Beginning is available now. The film release has more than 2.5 hours of extra features (more than three hours for the Blu-ray Disc release), such as the world premiere event, an Anime Expo event, trailers, previews, and production art.
Berserk: The Golden Age Arc II - The Battle for Doldrey is also available now on DVD and Blu-ray Disc. Viz Media screened the third installment of the film this weekend at NYCC. Extra features include a live performance of the theme song "Aria," trailers, and production art.
Viz Media will ship Zetman on DVD and Blu-ray Disc on November 5. Select retailers including Anime Pavilion and Right Stuf will include vinyl decal extras. Other extras include a NYCC interview with manga creator Masakazu Katsura, and a marathon play option.
The first set of Accel World is also shipping on DVD and Blu-ray Disc on November 26. Select retailers will also offer a special 48-page "Art of Accel World" book for those who pre-order the title. Other extras include production art, an English trailer, clean opening and ending, and trailers. The release will include episodes 1-12. Ingram added that fans should watch out for anime goods for Accel World coming out soon.
Ingram then moved on to the announcements part of the panel. She first showed a trailer for the new Naruto Ultimate Ninja Storm 3 Full Burst video game that Namco Bandai Games is shipping on October 22 for the PS3, PC, and Xbox 360. The game will include revamped cinematics, 38 DLC costumes, and Kabuto as a playable character.
Next Ingram showed a trailer for Blood Lad. Ingram remarked, "this simulcast has done extremely well for us." The simulcast just wrapped up, and the full series is available to watch on VizAnime.com and Hulu. Viz Media will release the series on DVD and Blu-ray Disc in 2014.
Viz Media is also going to release Ranma ½ on Blu-ray Disc and DVD. Viz will release the series in seven limited edition collector's box Blu-ray Disc sets starting in spring 2014. The releases will include the original Japanese episode order, and will be in full 1080p with the original 4:3 aspect ratio. The release will include both Japanese and English audio tracks.
Ingram showed some the audience some screenshot comparisons with the DVD release and the new Blu-ray Disc release, with quite a noticeable difference in the two versions. Viz Media is using the Japanese Blu-ray Disc masters for the release.
Viz Media is simulcasting Coppelion this season. The show is available to watch on VizAnime.com and Hulu. The company will release the 13-episode series on DVD and Blu-ray Disc in 2014. New episodes stream on Wednesday, the same day the show airs in Japan.
Ingram then showed a new subtitled trailer for the Tiger & Bunny The Movie -The Rising- that was just streamed at an event on Saturday in Japan. The trailer featured Unison Square Garden's theme song "Harmonized Finale."
The film will open in Japan on February 8, and Ingram also showed a new key art image for the film featuring the new character Golden Ryan see image below). The film will be screening in select theaters across North America in February 2014. Viiz will announce the cities and dates for the screening soon. Then Viz Media will release the film on DVD and Blu-ray Disc in 2014.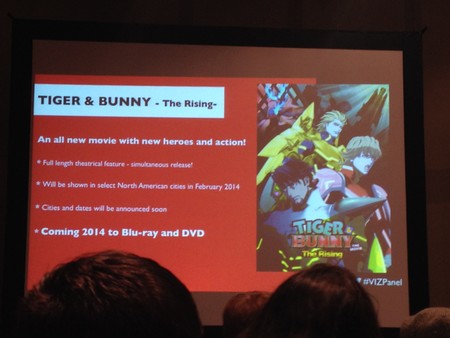 Ingram then launched into a Q&A. Viz does not yet have any official word on if Neon Alley will be featured on new generation video game consoles. Ingram also noted during the Q&A that Neon Alley is considering a yearly subscription. Regarding the Ranma ½ release, if the TV series does well, Viz will consider expanding to the films and OVAs.
Lastly, a couple of Tiger & Bunny fans presented Ingram with a petition with more than 100 signatures to try to get the second Tiger & Bunny film to screen in more cities across the country than the first film, which only screened in California. The petition was sealed in an envelope that read "Take my Money, Give me Tiger & Bunny!" Ingram gratefully took the envelope was nearly in tears as she thanked the fans for giving that to her.
---
discuss this in the forum (1 post)
|
back to New York Comic Con 2013
Convention homepage / archives